Menier Gallery, London: 7 February – 16 February 2019
ARTISTS: Keith Ashcroft, Lucy Austin, Benjamin Deakin, Kate Dunn, Jenny Eden, Andrew Ekins, Pippa Gatty, Alison Goodyear, Roland Hicks, Rachel Lancaster, Joe Packer, Jonathan West
WINNER: Joe Packer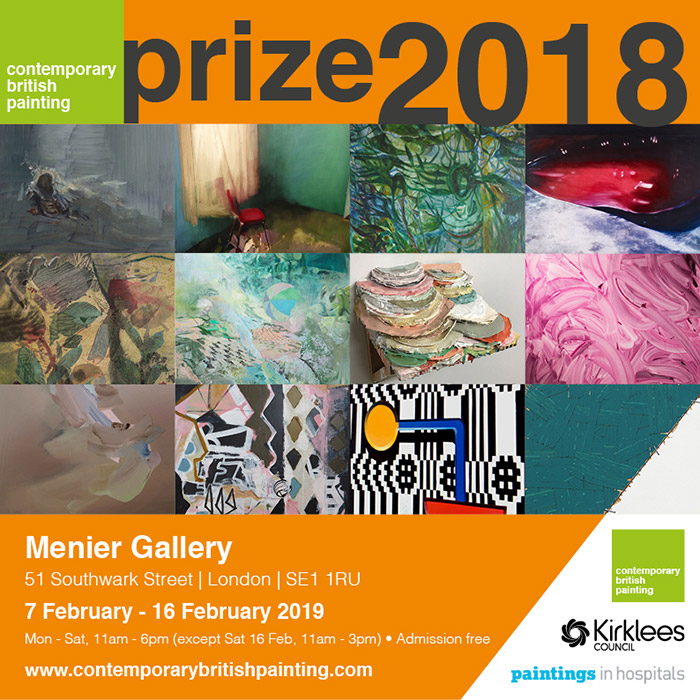 Following the exhibition at Huddersfield Art Gallery the second leg of the CBP Painting Prize 2018 takes place at:
Menier Gallery, 51 Southwark Street, London, SE1 1RU
Artist talks and catalogue launch: Saturday 9 February, 2pm – 4pm
Opening event: Saturday 9 February, 4pm – 6pm
Exhibition dates: 7 February – 16 February 2019
Opening times: Monday – Saturday (closed Sunday), 11am – 6pm except Sat 16 Feb 11am – 3pm.
Admission free
The prize judges for 2018 were: Matthew Collings (painter, critic and broadcaster), Amisha Karia (Head of Collection, Paintings in Hospitals) and Grant Scanlan (Huddersfield Museums Manager).
The twelve shortlisted artists were selected by a group of practising painters: Simon Carter, Paula MacArthur, Ruth Philo and Narbi Price (winner of the Contemporary British Painting Prize 2017).
Download the catalogue.
Download the press release.