We are very pleased to announce that the second leg of the Contemporary British Painting Prize 2021 exhibition will open at Unit 1 Gallery | Workshop, London on 28 January and runs to 12 February 2022.
The 15 shortlisted exhibiting artists are: Susan Absolon, Tony Antrobus, Roland Hicks, Martyna Lebryk, Donna Mclean, Hannah Murgatroyd, Christina Niederberger, Sarah Poots, Daisy Richardson, Tom Robinson, Jesse Leroy Smith, Gary Spratt, Bill Stewart, Zack Thorne and Jan Valik.
The Contemporary British Painting Prize 2021 was awarded to Susan Absolon, and the Highly Commended Award to Hannah Murgatroyd. The winner was announced at the opening exhibition in November 2021 at Huddersfield Art Gallery and selected by our three judges: Matthew Burrows MBE (artist and founder of the Artist Support Pledge), Julie Lomax (CEO of a-n Artists Information Company) and Grant Scanlan (Curator at Huddersfield Art Gallery).
The 15 finalists were selected from over 1000 artists by a panel of four members of CBP, this year, David Ainley, Karl Bielik, Sikelela Owen and Joanna Whittle (the winner of the 2019 prize).
You can order a copy of the catalogue with an essay by Matthew Burrows MBE here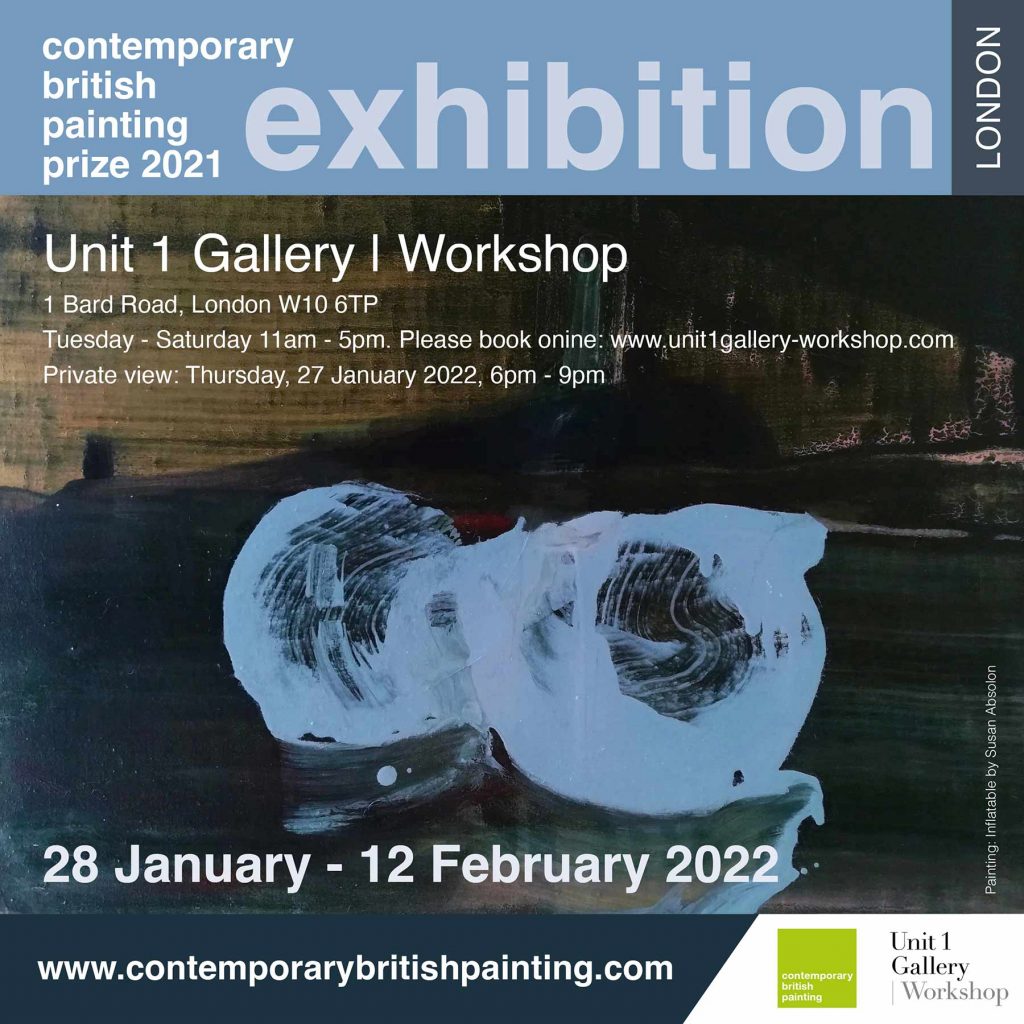 Unit 1 Gallery | Workshop, 1 Bard Road, London W10 6TP
Private view: Thursday 27 January 2022, 6pm – 9pm
Exhibition dates: 28 January – 12 February 2022
Opening times: Tue-Sat 11am-5pm. Please book online.
Free Admission – all welcome
"The stated aim of Contemporary British Painting is to explore and promote current painting. The subtext to this is giving voice back to the artist, the originator and source of painting. The real discourse around current painting is generated painter to painter and emanates from the studio and not from the boardrooms of institutions, directors' offices, lecture halls or galleries. This prize is artists submitting themselves to consideration and selection by their peers."
Simon Carter, co-founder of Contemporary British Painting and lead selector of the CBP Prize 2018.