Huddersfield Art Gallery: 1 Dec 2018 – 2 Feb 2019
The twelve shortlisted artists for the exhibition are:
Keith Ashcroft, Lucy Austin, Benjamin Deakin, Kate Dunn, Jenny Eden, Andrew Ekins, Pippa Gatty, Alison Goodyear, Roland Hicks, Rachel Lancaster, Joe Packer, Jonathan West
Huddersfield Art Gallery, Princess Alexandra Walk, Huddersfield HD1 2SU
Private view: Saturday 1 December 2018, 2pm – 4pm
Exhibition dates: 1 December 2018 – 2 February 2019
Opening times: 11am – 4pm (closed Sunday and Monday)
Admission free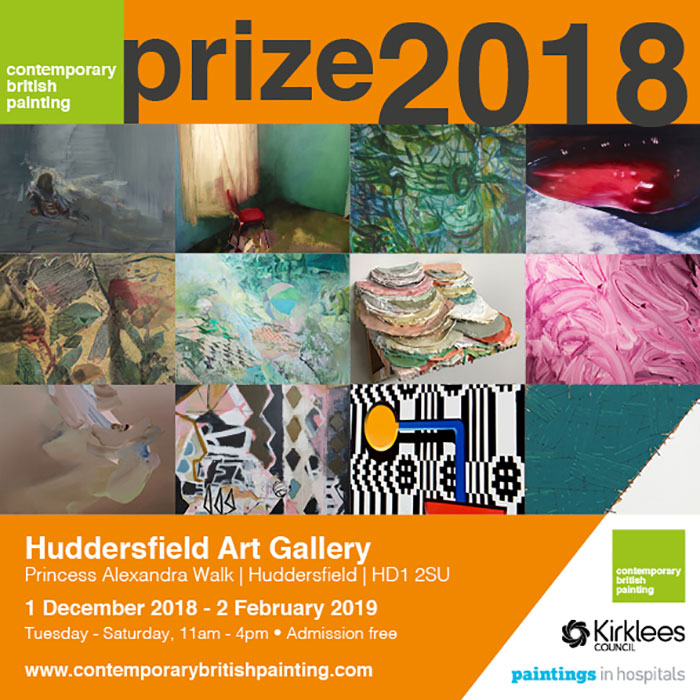 Each artist will exhibit three paintings each to form the Contemporary British Painting Prize Show 2018 taking place at Huddersfield Art Gallery from 1 December 2018 – 2 February 2019, then touring to the Menier Gallery, London, 6 February – 16 February 2019.
The winning painting will be announced on the afternoon of Saturday 1 December 2018, between 2pm – 4pm, at Huddersfield Art Gallery.
The prize judges for 2018 are: Matthew Collings (painter, critic and broadcaster), Amisha Karia (Head of Collection, Paintings in Hospitals) and Grant Scanlan (Huddersfield Museums Manager).
The winning artist will receive a £2,000 cash prize; a critical essay on their practice by Matthew Collings (launched at the Menier Gallery), and an invitation to become a member of Contemporary British Painting. All twelve shortlisted artists will receive a £100 exhibitor's fee.
The twelve shortlisted artists were selected by a group of practising painters: Simon Carter, Paula MacArthur, Ruth Philo and Narbi Price (winner of the Contemporary British Painting Prize 2017).
Download the catalogue.
Download the press release.