The Crypt: 19 January – 25 April 2019
Curated by Jyoti Bharwani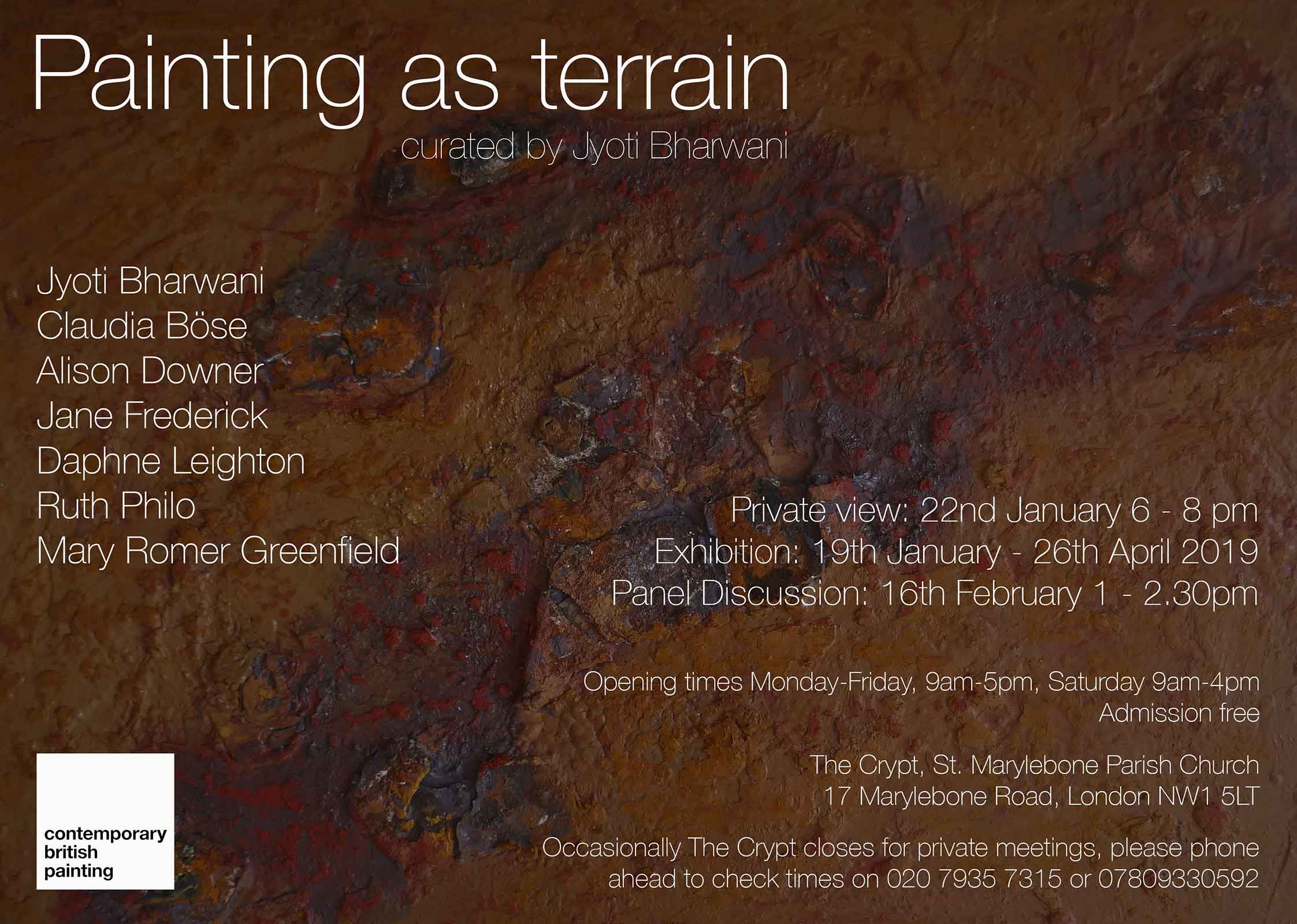 In a recent solo exhibition of the work by Mary Corse at the Lisson Gallery in London, the curator writes that "Corse combines a philosophical quest for the portrayal of the infinite [with the belief that] humans experience reality through an externally subjective lens, maintaining that there is nothing static in the universe."
This statement resonates strongly with the work of the seven painters in this exhibition. Like Corse, they are "experimenting with the concept of subjective experience in new and innovative ways." The artists in this group seem to have in common a search for an imaginative primary creativity, a space for being, that which Heidegger defined as 'the ground of existence prior to all knowledge.' Their way of creating abstract forms from inner and outer worlds obscures pure referentiality. The materiality and process of using paint is the ideal way to capture this intangible expanse of life. The painted surface becomes a terrain for being for both the artist and the viewer. Robert Creeley calls this 'the edge/ of being'.
The British psychoanalyst D.W. Winnicott's concept of 'potential space' posits just such an area of experience between reality and fantasy which functions as a container for being. The space of these paintings, then, becomes a place to find the self in our complex world.
Painting as Terrain includes work by: Alison Downer, Claudia Bose, Daphne Leighton, Jane Frederick, Jyoti Bharwani, Mary Romer Greenfield and Ruth Philo.
Private View: Tuesday 22nd January 2019, 6pm – 8pm
Panel Discussion: Saturday 16th February 2019, 1pm – 2.30pm
Exhibition Dates: 19th January – 25th April 2019
The Crypt, St Marylebone Church, 17 Marylebone Road, London NW1 5LT
Opening Times Monday-Friday 9an-5pm, Saturday 9am-4pm, Sunday closed. Occasionally The Crypt closes for private meetings, you can phone ahead to check times on 0207 935 7315 or 07809330592.
View and download a copy of the catalogue here.