Artist of the Month April 2021: Sikelela Owen, selected and interviewed by Paul Newman for CBP.
CBP: Your recent painting evokes a sense of reflection, contemplation, and something quite peaceful. This feels quite rare in the world of contemporary figurative painting that often evokes a degree of tension. This might partly be due to the gaze of your subjects, the eyes aren't depicted in detail, or are closed and this evades a potential confrontation with the viewer.
Could you discuss the tone and sensibility of your painting, is it something you strive for with intention, or a result of an intuitive painting process?
Sikelela Owen: These sensibilities came about through the painting process. And equally through the contemplation of the paintings that interest and excite me as a viewer.
From Chris Ofili's portrait of Doreen Lawrence 'No Woman No Cry', the figure of the young girl in Manets 'the railway or Velazquez's 'Portrait of Sebastian de Morra''. These are figures that I'm curious about whose stories I want to know. And they convey a level of trust that allows me to connect with them and surfaces that make me want to stay engaged.
It's a balm creating the type of imagery I want to see and experience; with the subjects I portray. I enjoy capturing the moments of just 'being' visually and emotionally authentic that sustains us between everything else.
However, I value the gaze that can be used to position the relationship between the viewer and the subject. As the original viewer depicting my loved ones, I accept the non-direct gaze as a sign of comfort in my presence to continue their own contemplation, but it also doubles as a layer of protection for the subjects and an invitation to the viewer.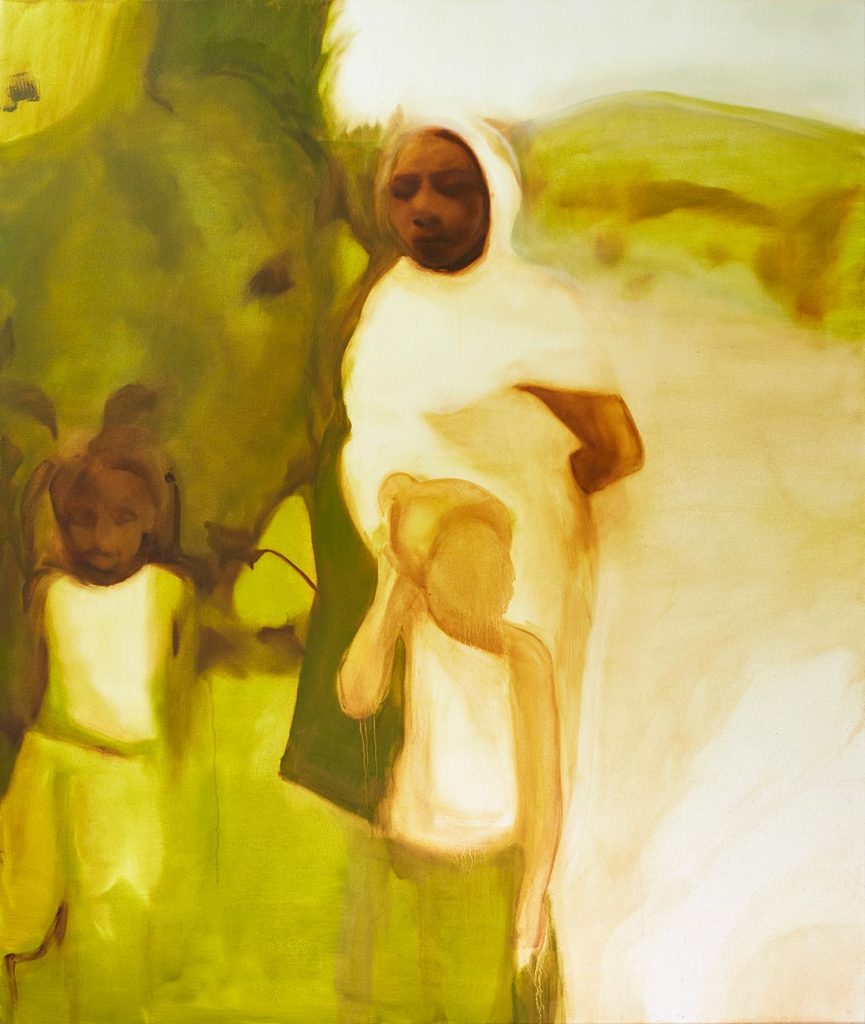 CBP: The distinctive characteristic of painting the eyes closed or just suggestively without highlighting them, represents a feeling of searching for form and narrative through memory and imagination.
Can you discuss the relationship between memory, imagination, and specific source imagery, like photographs in the construction of your paintings?
SO: Personal photography is usually my starting point, I like to have a certain level of ownership over these images which enables me to engage the other aspects of memory and imagination.
These relationships have become more central in paintings such as 'the Owens'. The Owens is a large portrait of my father's family from the 80's Its composition resembles the last supper . The image itself has taken on more meaning over the years as my dad is the only surviving member of his nuclear family.
In 2019 I returned to the image while on residency at Elephant Labs across the road from Glenfell Towers and around the corner from a personal loss (depicted in Supper with the Moyo's), it seemed like a good space to explore this gathering and allow my imagination to draw parallels and build narratives across the imagery and histories on the surface of the painting.
CBP: How important is the photographic referent in making your work?
SO: Yes, photography is very important in the work to begin somewhere real. This is usually a photographic reference or occasionally a drawing or monoprint. This isn't something the viewer has to know to appreciate the work.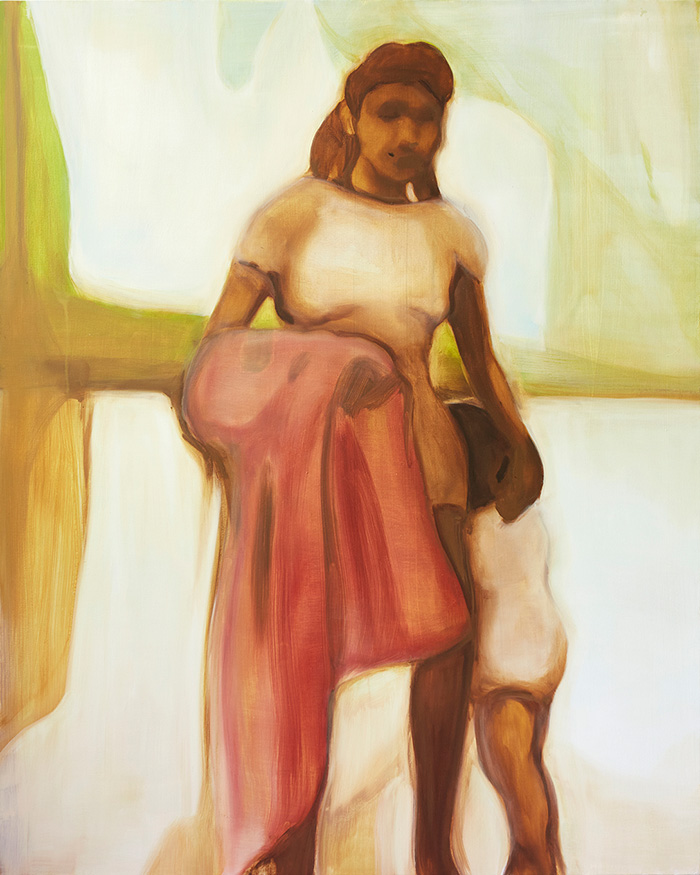 CBP: Are there particular ways you have used and contemplated them and broken away from them in the painting process?
SO: A lot of care is taken in the selection of images. I almost exclusively select images I have taken or are well known. Great photography has nowhere to go in my paintings. Poor quality i-phone and photocopied imagery, preferably in black and white, is perfect.
In addition to photocopied imagery, I draw from photography and life, I prefer to do this in paint, charcoal or ink. Mono-printing helps me think fast and paint looser resulting in the best shorthand.
But often, it is a quick photo collage or painting directly onto a photocopy, that helps me work out compositions and make decisions.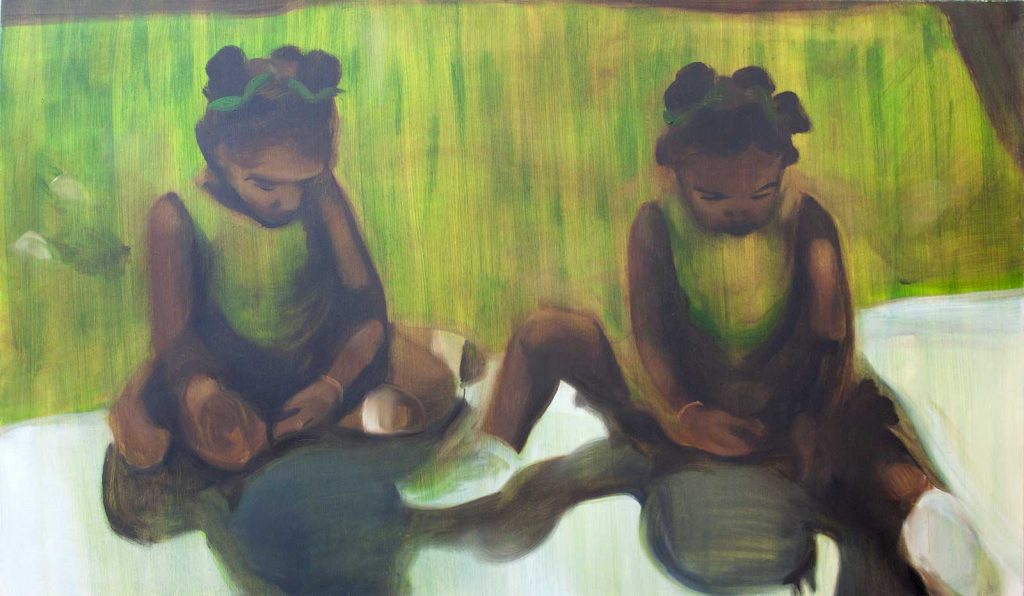 CBP: Your paintings suggest an image fading, or emerging / developing. They have a unique atmosphere, and some of them have a kind of sepia tone, perhaps reflecting something nostalgic. Pre digital, the photograph was considered an object, something haptic and tactile that could be handled, a souvenir, an archival record.
Is there something about the tactility and treatment of your painting that evokes a souvenir or something nostalgic?
SO: Yes, I think it's fair to say that the found imagery has an inherent sense of looking back, archiving for who and for what, I don't know. A strong part of those memories are the old photos in albums and boxes. Because of that I still think of enjoying photography as a tactile and experiential thing. Which is probably why digital platforms really mess with how I naturally process imagery.
The sepia tone in some of the images is most likely an echo of the paint from the initial drawing which is placed directly on the canvas and is, almost always, yellow ochre. The colour works well underneath other colours creating a warmth and depth echoing the found photography. I associate it with light, heat and skin.
But I think the fading and emerging may be a gift from my early ventures into poor photography. It really struggles to capture brown skin especially at night or against light surfaces. It almost always under or over exposes, often failing to properly distinguish features and capture information. This was a gift early on as I often asked the question: how much was enough to convey a story and leave enough room for the viewer to do the same.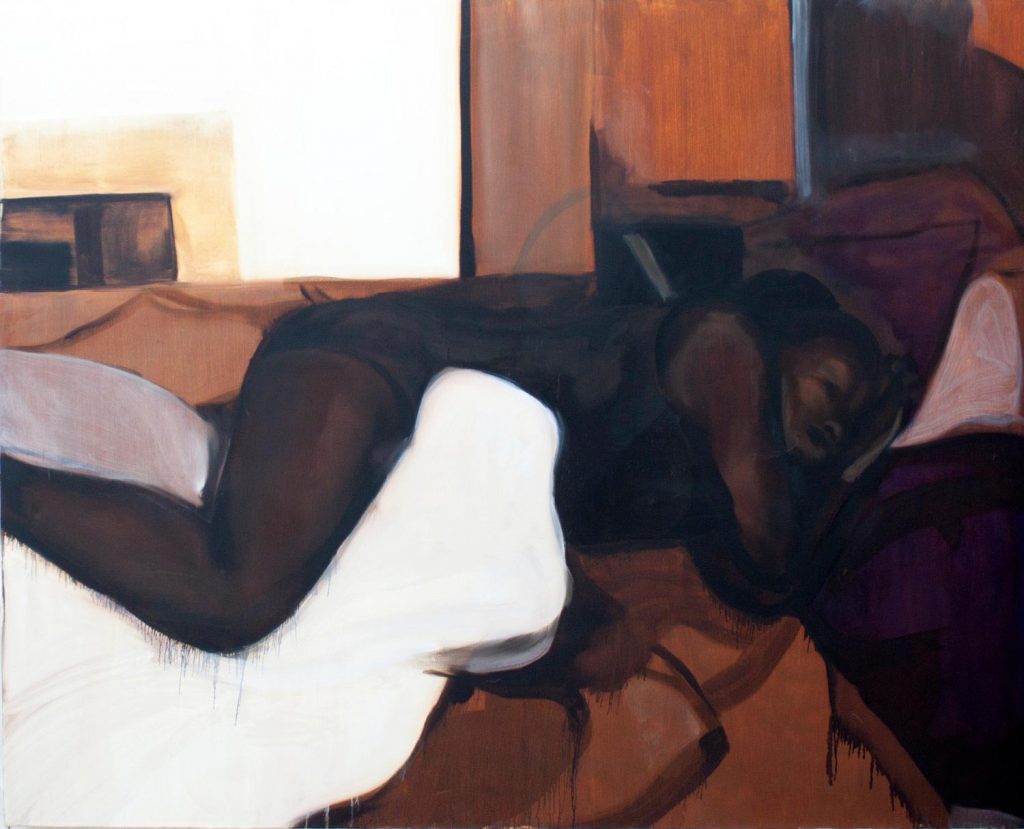 CBP: Are there references to art history in your painting?
This might refer to the previous question and your use of colour and surface that could evoke the patina of certain historical painting, or compositional quotations and title referencing such as 'David (Olympia) 2018'.
SO: Yes, my absorption in painting comes from my own consumption of going to see paintings at the National Gallery, Tate and other shows. I love Manet and, compositionally, he is one of my favourites to borrow from.
The initial snapshot echoed some of the elements of Manet's Olympia, but it was the line down the middle with its split of dark and light and the decidedly different poses of the main figure that caught my attention. I suppose it's a study in contrasts. In my Olympia I'm offering up someone I love at ease, at rest and a moment of intimacy, while Manet's painting was a confrontational taboo. And while it's not a taboo, I think David as Olympia offers a view of masculinity and vulnerability that isn't often put forward. Which I often contemplate when I look at my husband.
In addition to it narrative it offers formal opportunities, the foregrounding of the white blankets, the difference in the way the palette acted upon the centred black male figure almost embracing and absorbing him into the painting, adds to the softness of the image.
In other instances, this borrowing as a composition tool is often un-initial.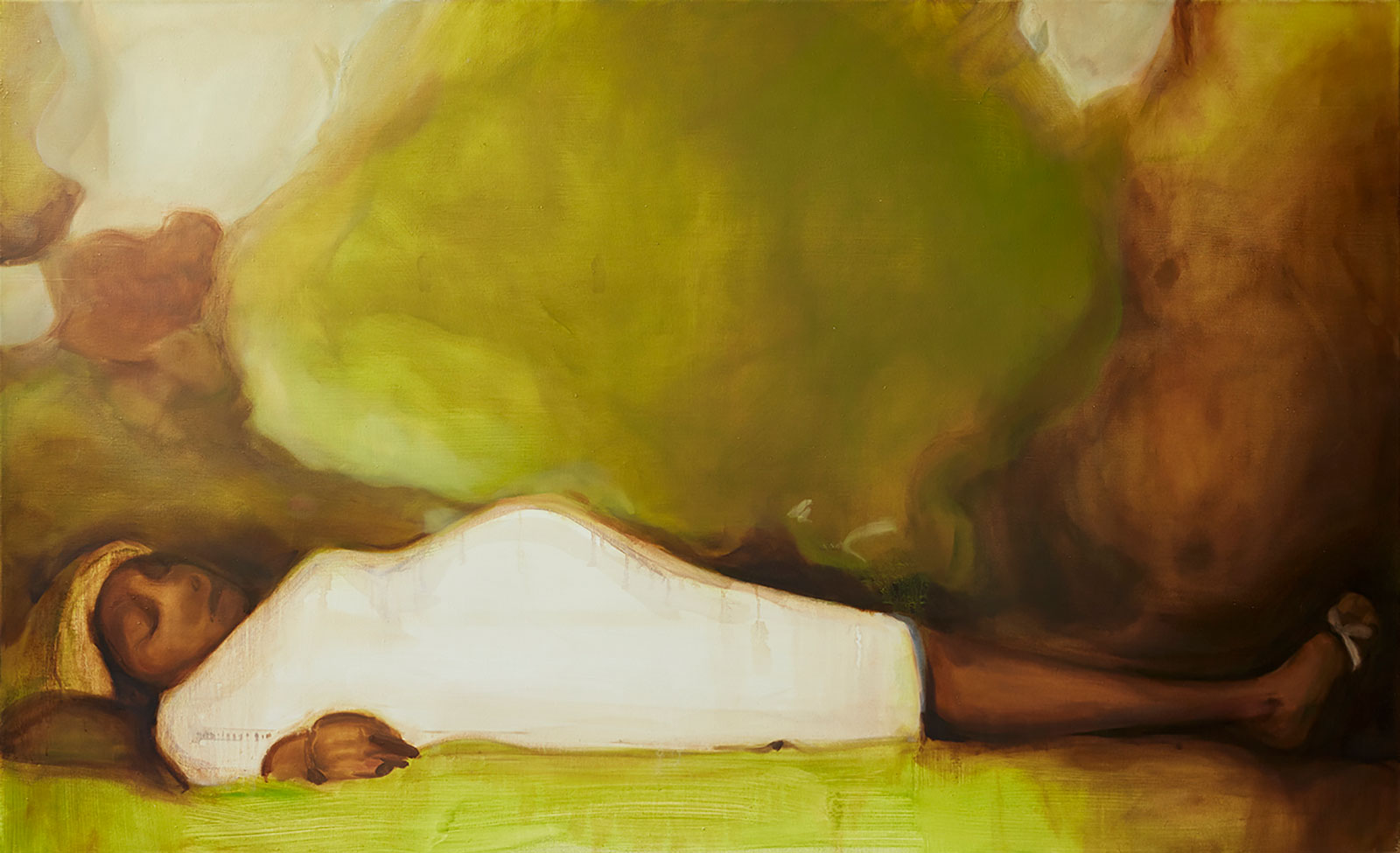 CBP: Could you discuss your painting process, using staining and loosely defined backgrounds that sometimes imply the characters in dream spaces. Is the composition defined near the beginning of the painting, or do you make numerous, sometimes radical changes? Do you use erasure in your painting, removing layers of paint?
SO: The general composition is defined at the beginning of a painting through the preparation and contemplation. However, as I only ever begin with a drawing, it can change and often does change. The desire for thin layers and clean colours in the background require waiting for layers to dry. The differing styles of mark making is a result of the difference in speed across the painting.
I like to get down the fundamental, relatively quickly but the finish takes longer and more consideration. However I don't shy away from radical change where needed such as in the recent piece Viv (Summertime) in which layers where removed, knocked back and a new space which seems to be a little elsewhere not quiet Kingston and not quite Southend.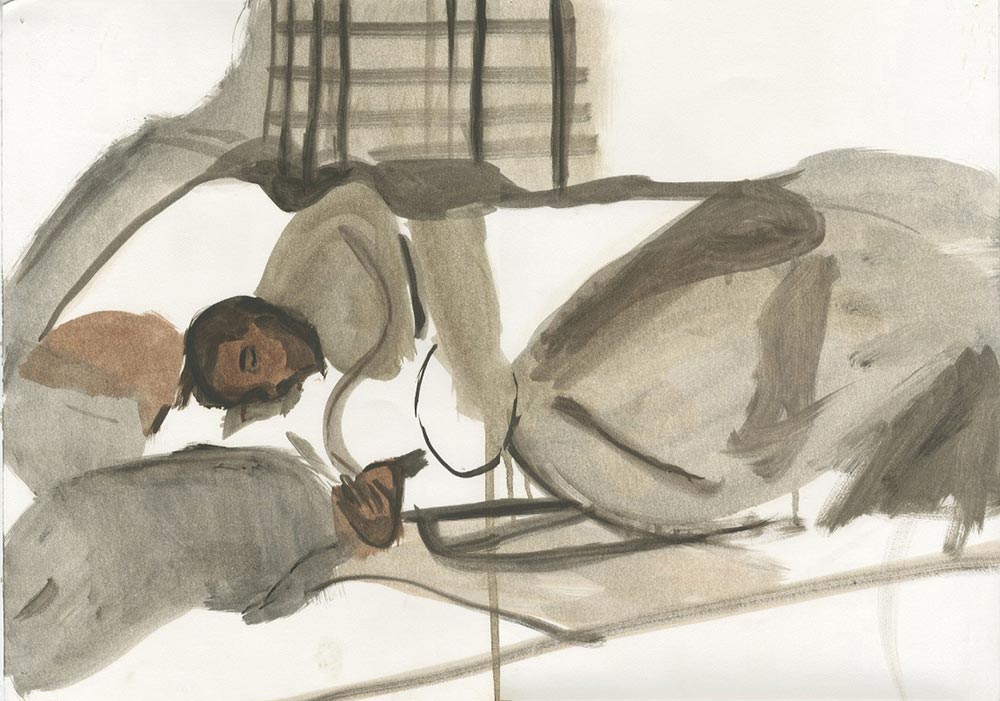 CBP: With reference to the study on paper 'Linnie Sleeping' and its relationship to the painting 'Linnie Laying' and he lying down series role does drawing play in the development of your painting?
SO: Yes, drawing does play a big role in my painting. It's often a great shorthand to composition and tone. However, in this instance, the drawing came after the painting. The small painting 'Linnie Covered' came before the painting and is an adjacent image. But the drawing allowed me to think about line, while the actual painting was so physical, and the surface was quite different.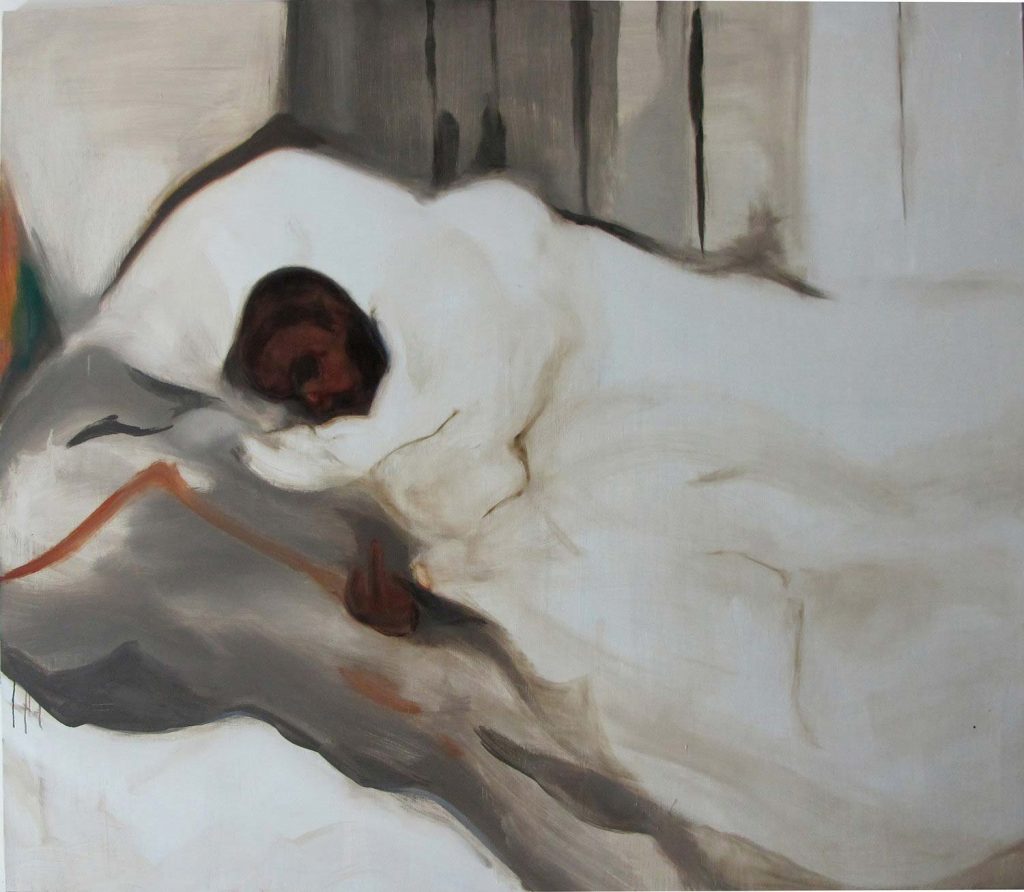 CBP: Congratulations on your painting 'The Knitter' shortlisted in this year's John Moores painting prize exhibition Along with its companion painting 'Sunning' could you discuss these two paintings?
SO: Thanks. I'm excited to actually visit the show once lockdown is finished. I can't wait. The Knitter is the piece actually in the show and the Sunning is its companion piece completed at the beginning of the year. There both paintings of my mother when she was pregnant with me.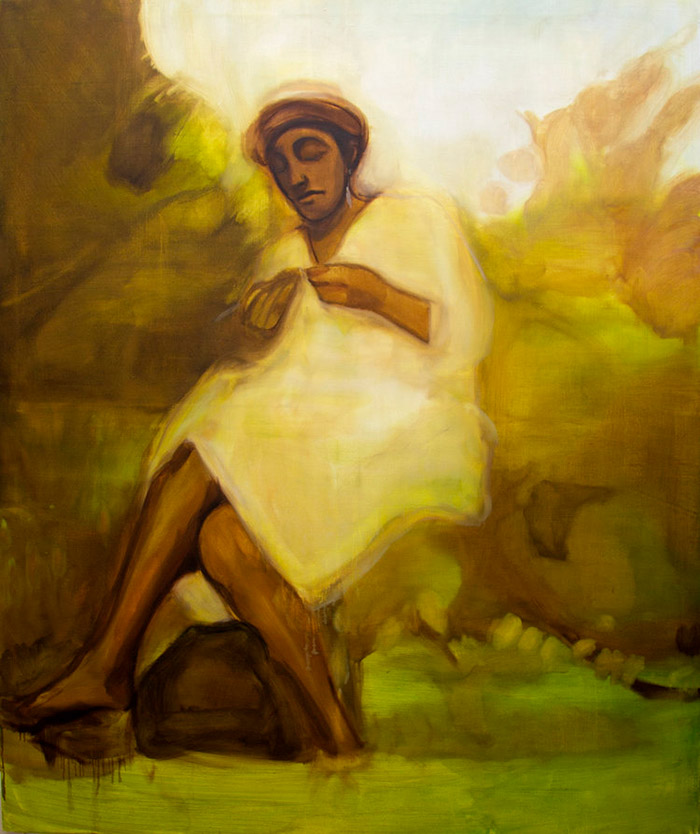 As she sits on a bench in a Bristol Park knitting, its' composition echoes historical British painting. But it's also a meditation on this young woman before I knew her. It is set apart by the combination of vulnerability and familiarity. Like the space behind her which is loosely defined and features underpainting, conjuring ideas of different geographies which imbues the work with a feeling of 'elsewhere'.

With its painterly slippage it and its sited composition is a the more traditional of the two and was less of a battle to create. While the sunning was began last year and completed this year and having been pregnant when I really started painting and given birth when I finished it, I feel the relieve of laying on your back as a pregnant woman and I suppose it carried me through my own contemplation and pregnancy during the lockdown period .
With the knitting I spent my time trying to figure out what was going through my mother head and with the sunning I think I was processing my own journey. But I hope either way the viewer can participate in this universal imagery.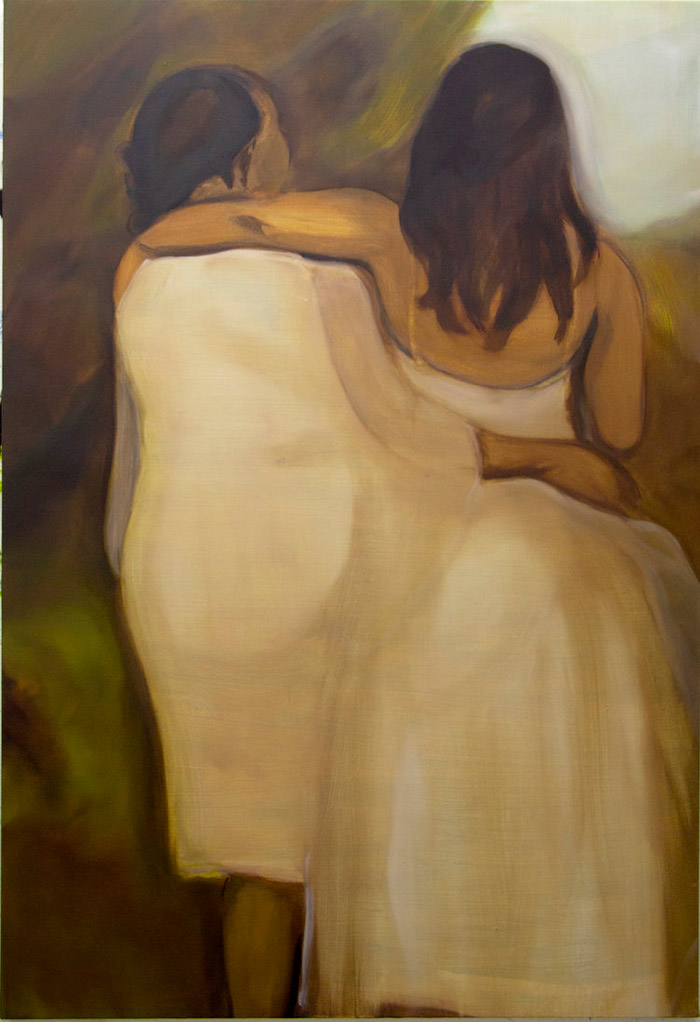 CBP: Family feels very important in your painting, in relation to the cast of characters in your work, could you discuss this notion? It sometimes feels like you are piecing together a family or reconstructing one through your painting.
SO: Yes family, community and intimacy are important in the work.
I think that feeling of piecing together and reconstructing comes from the fact that these family images span different geographies and times.
In some of the found imagery, I am literally piecing together lives and building a narrative of people I don't know. Such as my great grandparents who settled in Jamaica. So, I often look at them trying to trace the faces of my grandmother and her siblings in these faces I'll never know.
Whereas my husband exists everyday under my observation: drawing and photographing, and like most of the reoccurring cast members I know, he's well known to me. This knowledge is very important as it results in more interesting conversations across paintings.
CBP: How is of the balance of painting and studio routine with your own family life at the moment? What projects are you involved with or working towards?
SO: Just about. This year has been challenging
I have a five-month-old so I'm trying to figure out the best balance, yet he changes every 2 weeks. However, I can't complain. We visit the studio most weeks and I hope he'll learn to love it. But it's changed my studio routines and ways of working.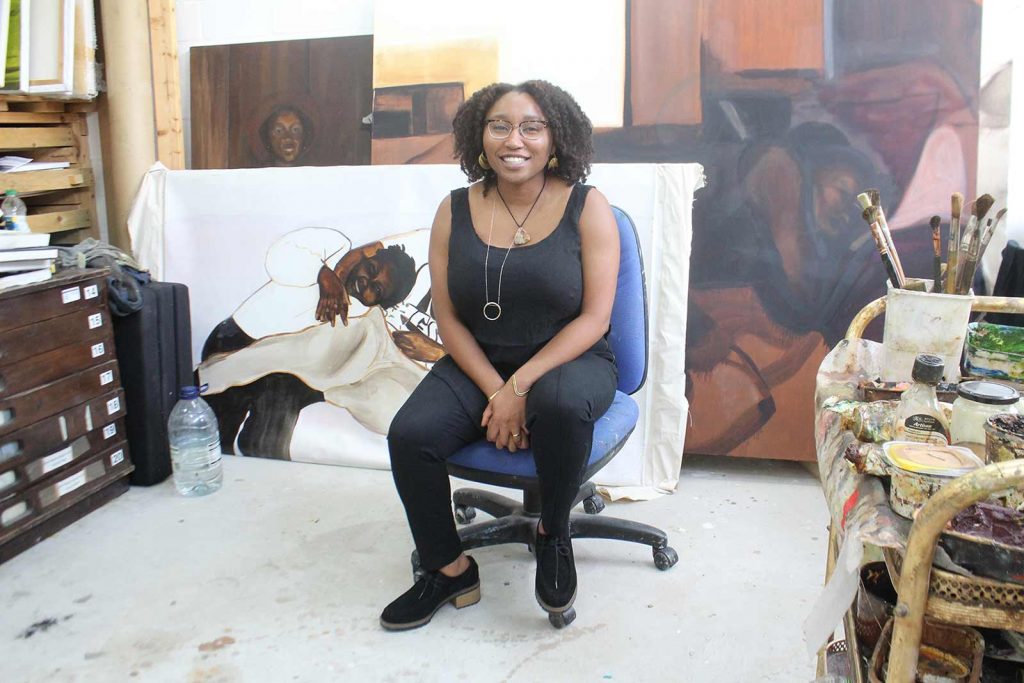 Sikelela Owen (1984, London) studied Painting at Chelsea College (2009) and then Fine Art at the Royal Academy Schools, graduating in 2012. Recent solo exhibitions include 'Together' at James Freeman Gallery, London; 'Supper, Sleep and Sorrow' at LdM Gallery, Florence; and 'Love, Eat, Sleep, Repeat' at HSBC Canada Place in London. In 2014 her work was included in '100 Painters of Tomorrow' at Beers Gallery and in the Thames & Hudson Publication. In 2019 Sikelela was awarded a Fellow's Residency at the British School at Rome, and in 2020 her work was shortlisted for the John Moores Painting Prize.
John Moores Painting Prize: 12 February to 27 June 2021

Heart of the Matter at Gillian Jason Gallery: 8th March – 15 April 2021

A WAR WITH NO WINNER at the grove collective: 25th March -12th April