Artist of the Month December 2020: Cara Nahaul, selected and interviewed by Paul Newman for CBP.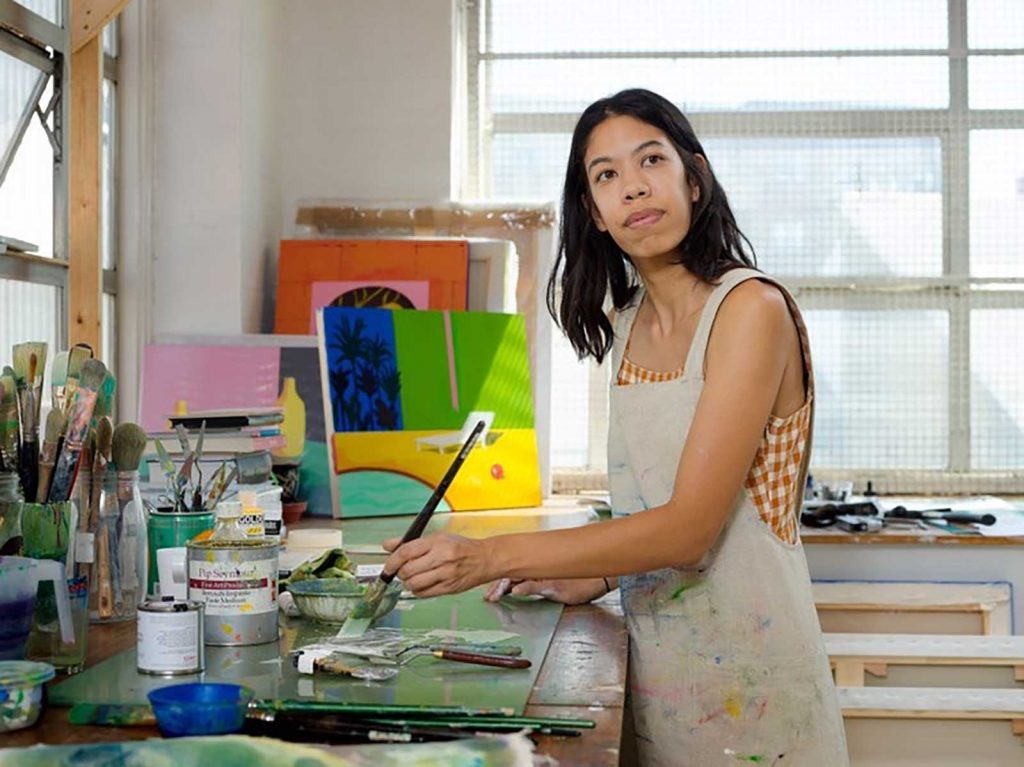 Contemporary British Painting: The title of your recent solo exhibition 'Impossible Garden' at Taymour Grahne encapsulates your practice depicting psychologically charged interior and exterior spaces conjured from your imagination and influenced from your early memories of Malaysia and Mauritius. Your paintings contrast something idyllic, with a tension of something uncertain. Can you discuss this tension, is it a result of the painting process and creating an intuitive sense of balance and order?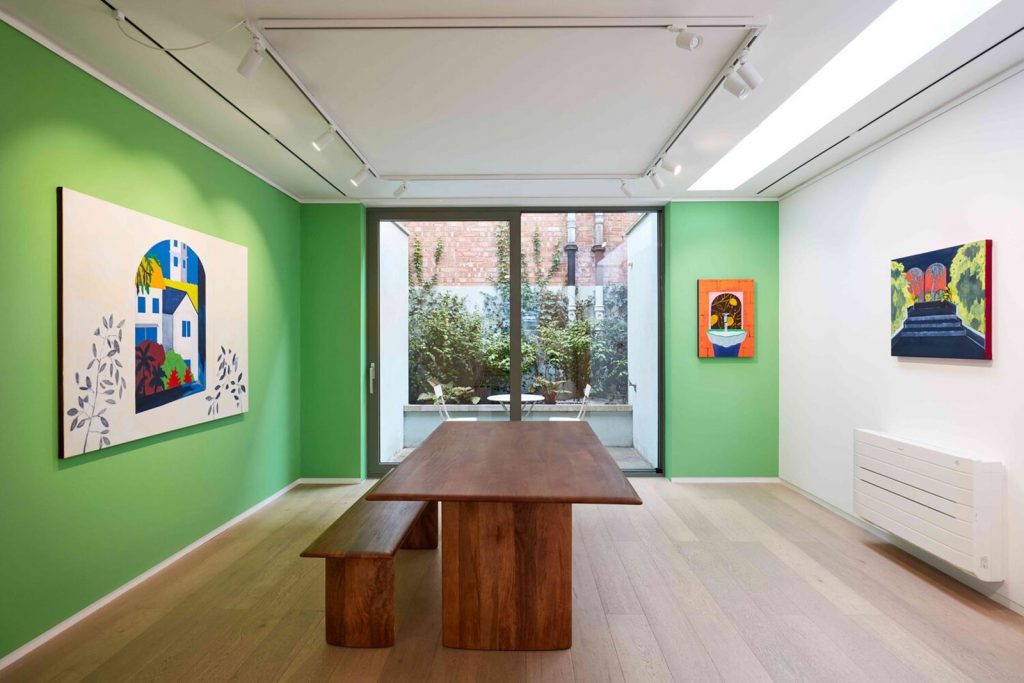 Cara Nahaul: The title of the show took inspiration from the Mexican architect Luis Barragan, who proposed that the 'perfect garden should enclose nothing less than the entire universe'. For me this resonated not only with the paintings I was making at the time, but the act of painting itself which can sometimes feel like an impossible task. This search for a universal space is a tall order, but I'm very intrigued by it.

I often think back to a studio visit with a tutor at art school who asked me to imagine a place where I could truly feel myself and what it may look like. In some ways the tension you mentioned within the works is a result of feeling displaced and in-between different spaces, and trying to capture the feeling of a memory.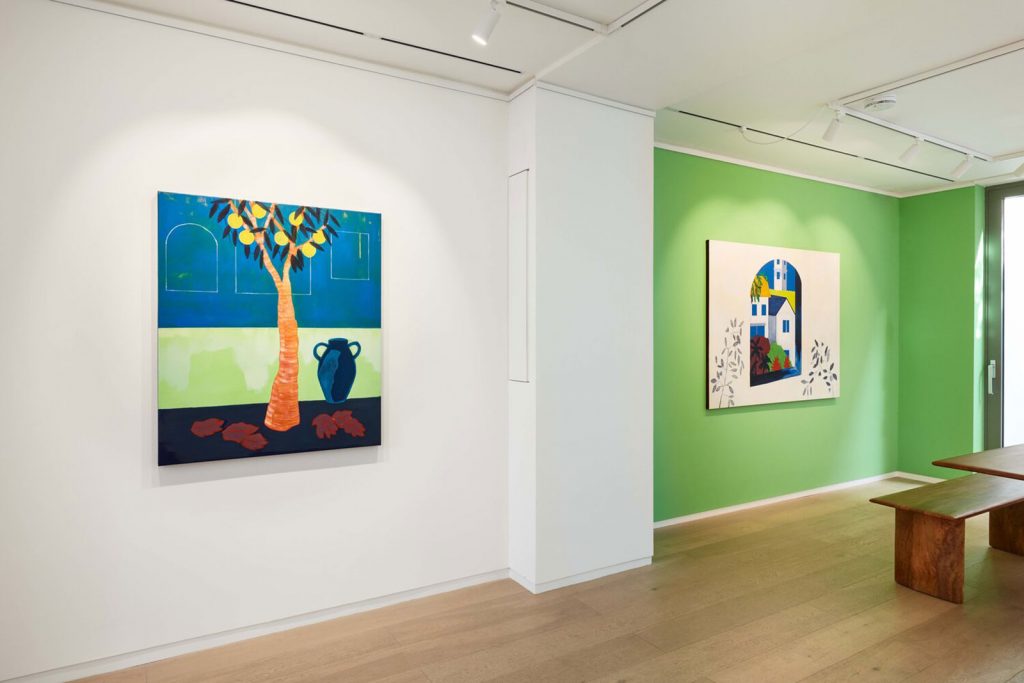 CBP: The window and round arch way are a recurring feature in several of the works in this show, and echoed by other shapes such as the cropped curve of the swimming pool. It seems to be like a portal through to another space or plane, sometimes it's just an outline, and others it appears another painting is inside them. They could allude to the architecture as stage sets. Could you discuss this feature?
CN: I love the shape of arched windows and doorways, and how they frame the views behind it. A lot of the paintings are views from entry points and I wanted a feeling of entering a space, or at least trying to. The spaces are always empty too but have certain traces of human presence like a running tap or food left on a table. I think this gives the stage set feel you mentioned, as though someone has just left the space.
I also think that looking at a landscape or view can sometimes feel like looking at a mirror; what do we recognise of ourselves when we look at a place? Zadie Smith captured this feeling in White Teeth where the character Irie is incapable of seeing herself in England, a 'gigantic mirror' in which her reflection is missing.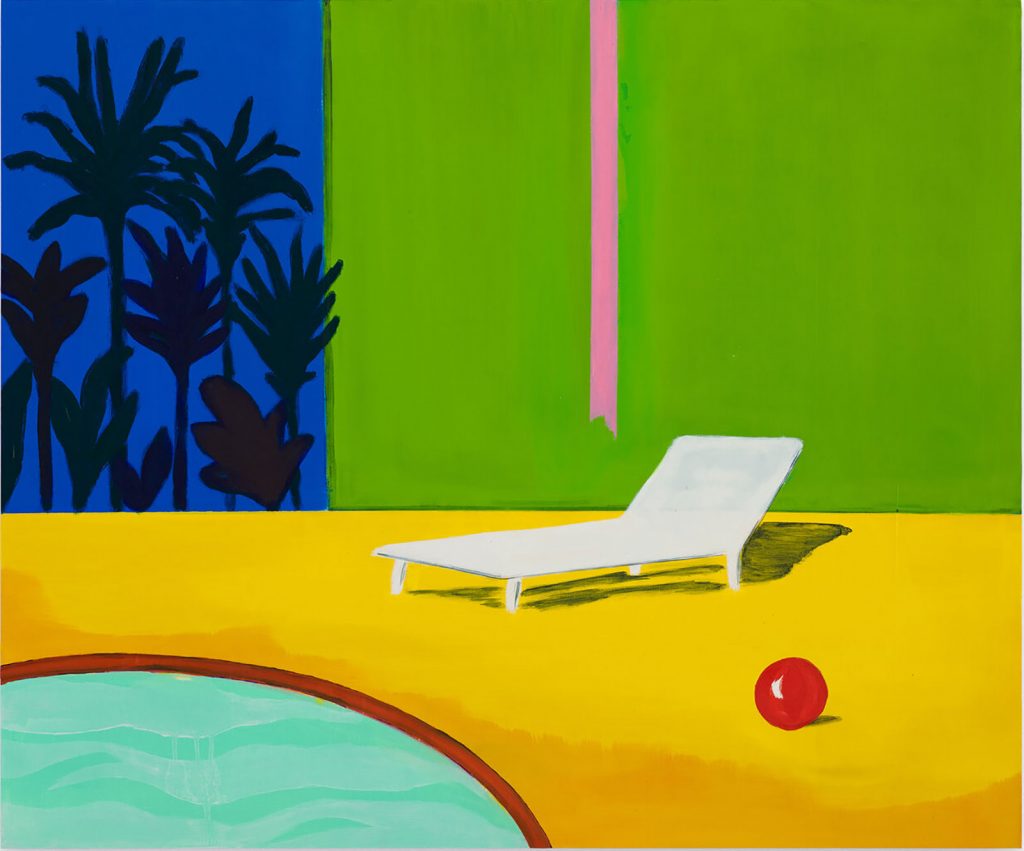 CBP: Do you consciously use, or are you inspired by any particular art history references? I could say – subjectively, that influences can be detected from a range of sources from Eastern miniature painting, to European modern art, such as Okeefe, Matisse and Hockney.
CN: I've only recently started looking at miniature paintings, as in really looking at them. Matisse and Hockney have always been a strong influence. More recently though I've been looking at Etel Adnan's landscapes, as well as reading her poetry which I see as equal to her paintings. I like the way Patrick Caulfield distills a space to it's simple elements. And Philip Guston, for the way he captures anxiety in his brushstrokes.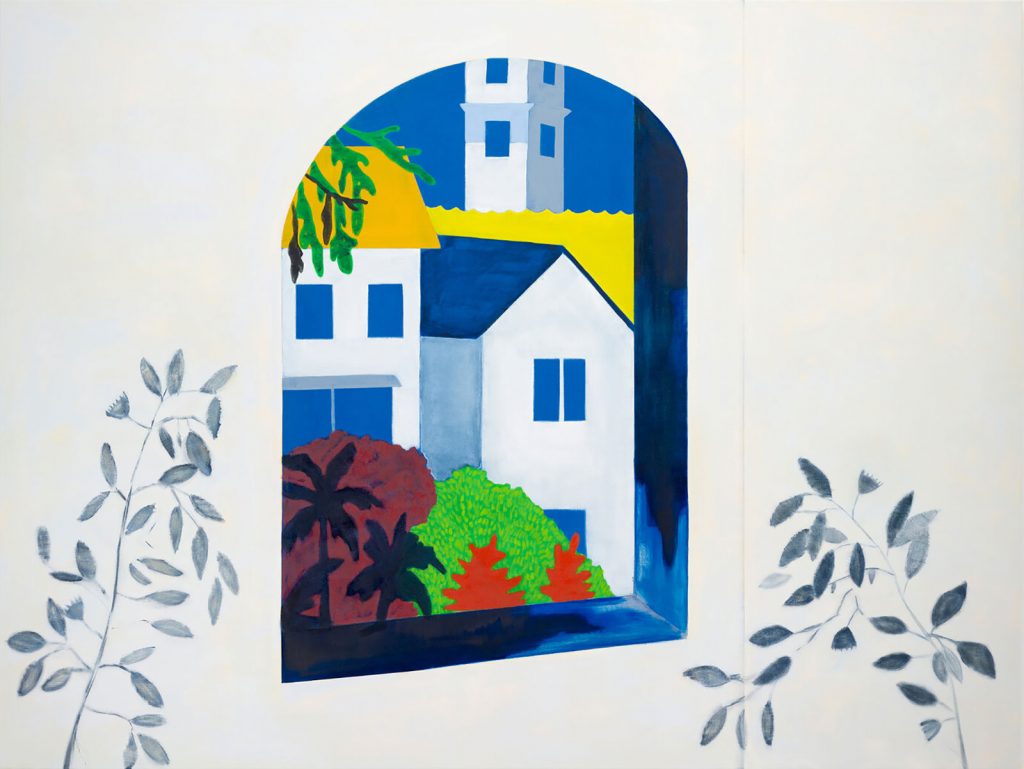 CBP: Do you use drawing or collage or photographs to assist you, in relation to the strong notion of these being imaginary places conjured through painting?

CN: All three! But mainly drawing and photographs. I take a lot of photographs on my phone as well as a film camera. I will make drawings from these, but by the time I choose to paint them they are quite far removed from the original photo. Photography helps me remember what a place felt like, but also documents specific details that I may want to include in a painting like an architectural feature.
I mostly draw in charcoal to sketch out ideas for new paintings, but all the colour I use I decide as I make the painting. I prefer to keep it intuitive so it feels fresh. It's an exciting process for me and I hope it comes across in the work.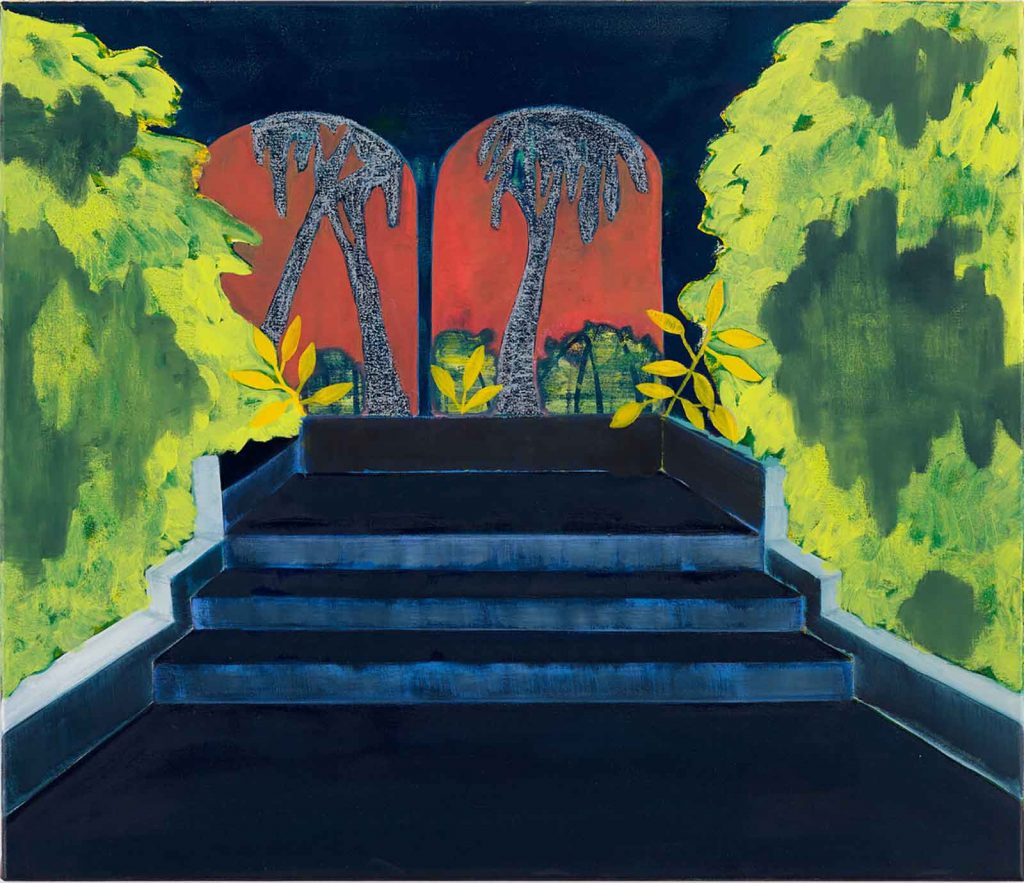 CBP: You have a mixed media approach combining oil, oil pastel and acrylic. You have a considered approach to controlled expressiveness and gesture. Does this mixed media approach allow you a more nuanced contrast of surfaces and paint application? Have you always worked this way, or was it a case of trying a different medium but not letting go of the medium you were working with initially?
CN: I love trying out different mediums, and I like the parameters of each one. I like how colours can look different in each medium, but also the wide range of possible textures. The way you hold a paintbrush verus holding an oil pastel will produce very different marks, and it's like having a new language in which to communicate.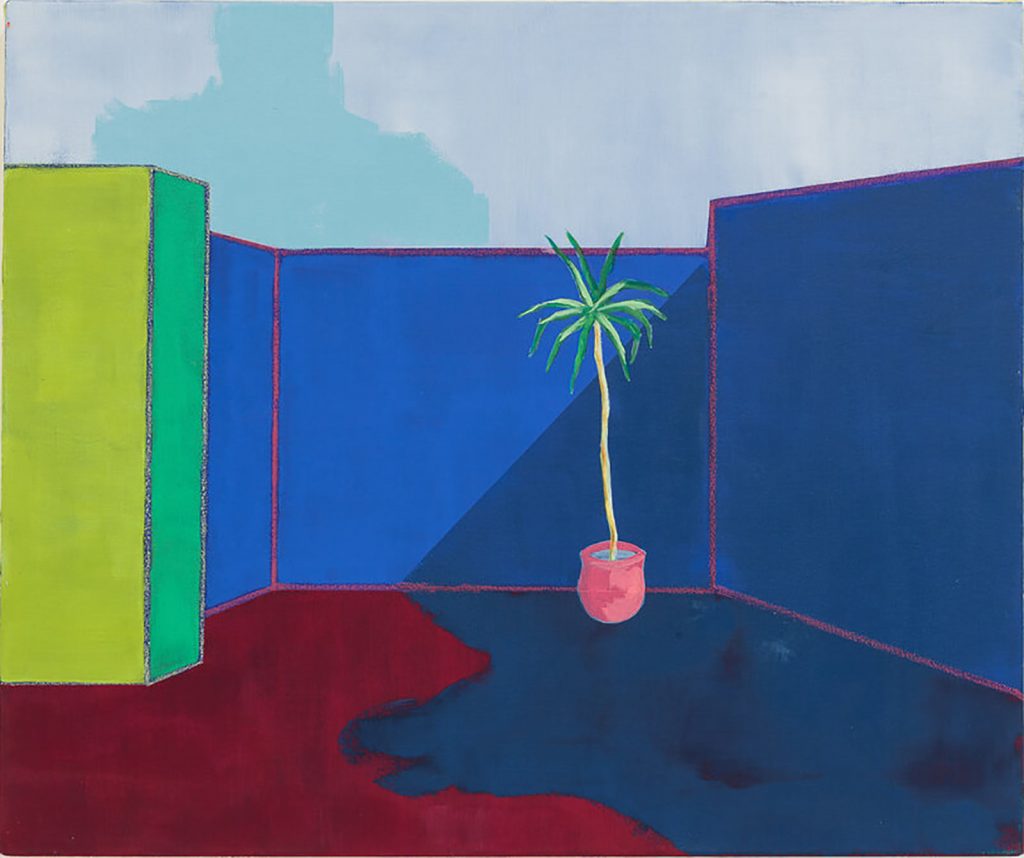 CBP: Your painting has plenty of understated drama and psychological narrative between the figurative elements. Clearly you don't need to paint in a person or animal; how or why did you make this decision?
CN: I'm more interested in painting the relationship between people and their environment, rather than someone within it. I came to this decision after looking at a photograph of my mum when she was a young girl. It was a family portrait taken in a professional studio, and the backdrop in which she stood in front of depicted a generic looking tropical landscape. I was compelled by this image which seemed to point to a place rather than locate somewhere specific. I often question what makes us want to travel somewhere, but also how places create and present their own narrative.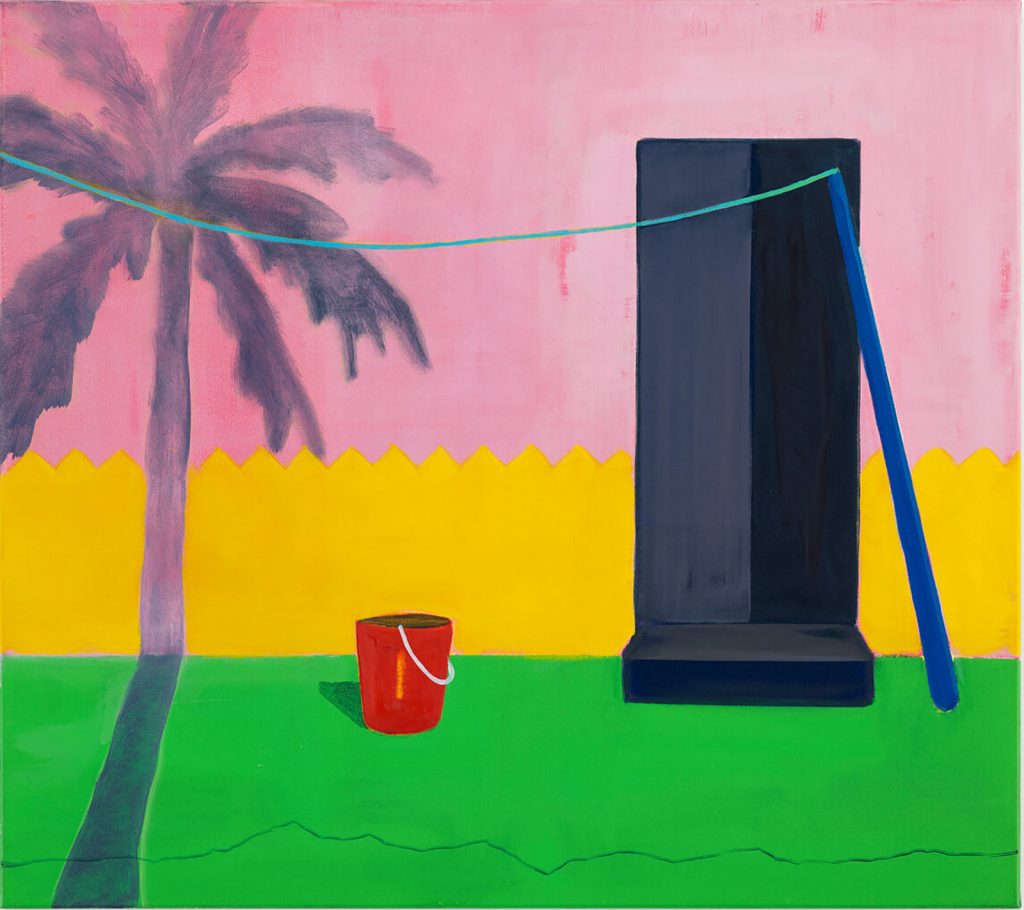 CBP: What is your current weekly studio routine? Are you working towards any new projects?
CN: I've only recently settled back into my studio routine. After my solo exhibition finished, I immediately started work on my first public commission for the arts organisation Vital Arts. I was asked to create work for Custom House ward at Newham University Hospital. I created two large wall paintings measuring 10 x 2.5m each, and a series of drawings to accompany it. I also designed bespoke window vinyls for the ward, which featured plants used in medicine to create a space of healing and recovery. So now I'm looking forward to some quiet, restorative time in my studio.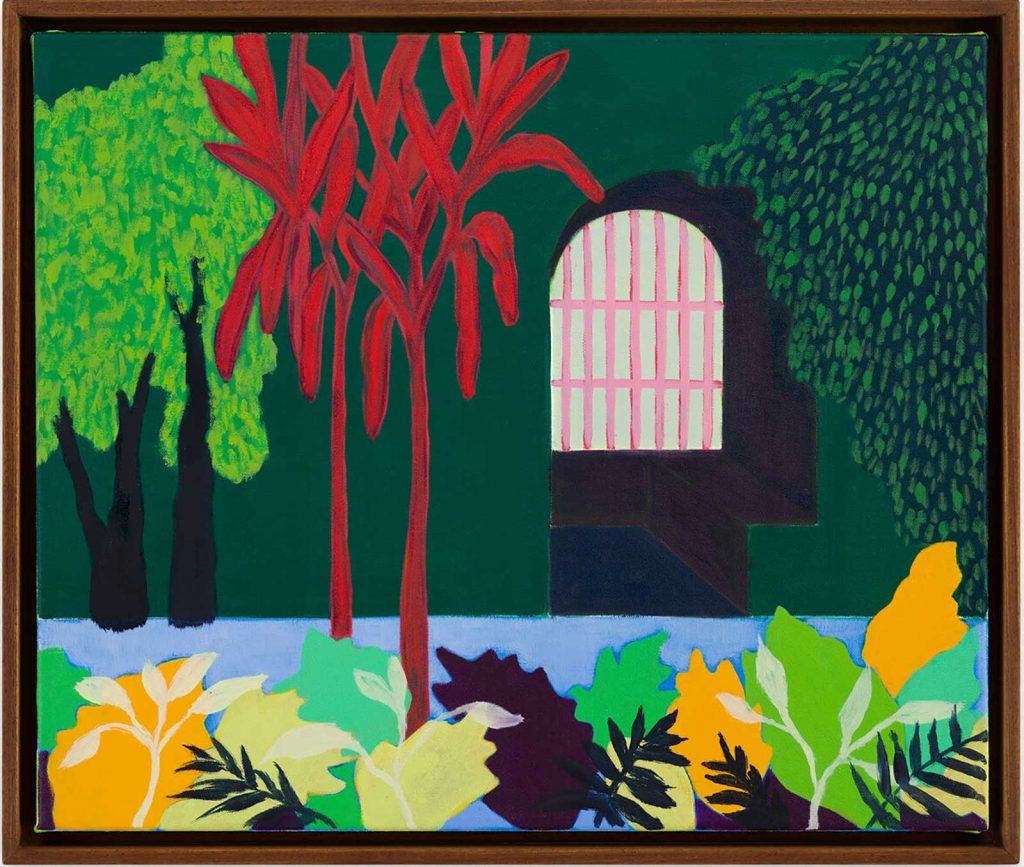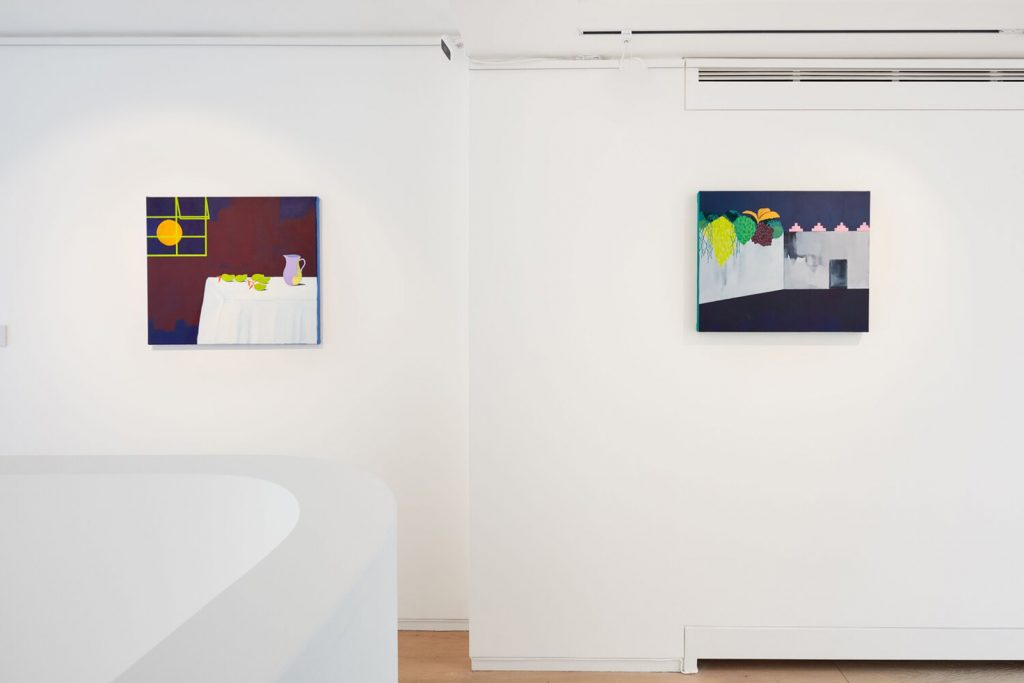 Cara Nahaul is an artist living and working in London. She received a BA from Goldsmiths University, London and an MFA from Parsons The New School for Design, New York. Her work has been the subject of recent solo exhibitions at Taymour Grahne Projects and Trade Gallery. She has been selected for the John Moores Painting Prize twice, the inaugural Jerwood Painting Fellowship, nominated for the Contemporary British Painting Prize and completed a yearlong studio residency at the Florence Trust.