The Crypt: 8 September – 22 November 2018
Curated by Fiona Long.
Artists: Benjamin Deakin, David Sullivan, Fiona Long, Nadja Plein, Paula MacArthur, Rhys Trussler, Sasha Bowles and Wendy Saunders.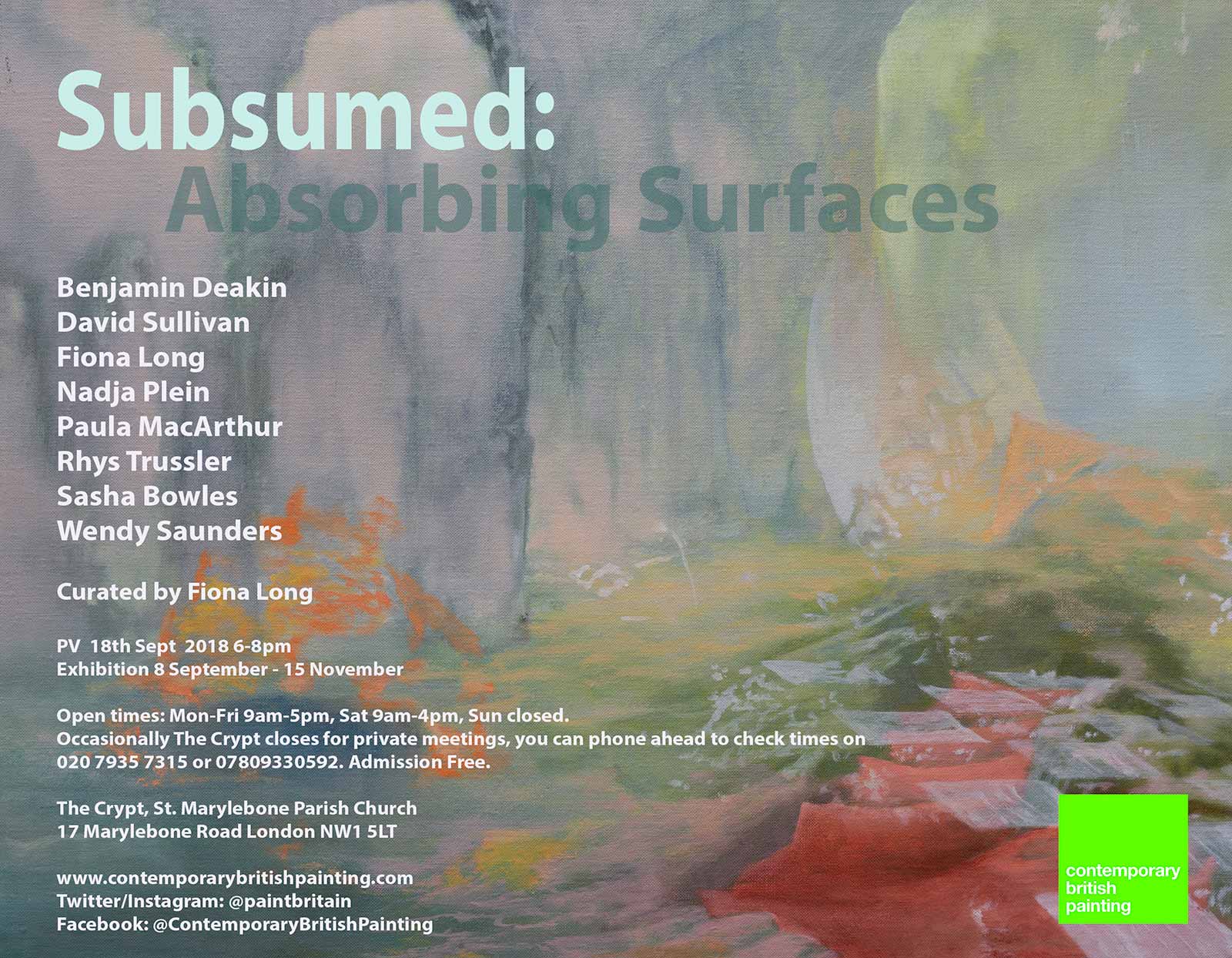 Verb
past tense: subsumed; past participle: subsumed
1. include or absorb (something) in something else.
Each of the eight painters in this exhibition engage their practice with the experience of subsumption. Variously this can be in the absorbing act of painting itself, experienced by the painter; in the creating of surfaces that have the capacity to engulf the viewer, in images that stir up powerful and consuming emotions or in dealing with themes such as assimilation and negation.
A painting is an essentially flat surface, yet it may present an intriguing depth in many ways, the illusion of trompe l'oeil, and perspective being two of the most obvious, but tempo of mark making, weight of composition and colour, may all lead viewers through the surface.
Visitors descending into the subterranean Crypt at St Marylebone, are also subsumed since the word literally means 'to absorb from below'. Here they are invited to consider how each individual work is absorbed into the whole curated body, even as they themselves may find individual works absorbing.
The Crypt, St Marylebone Church,17 Marylebone Road, London NW1 5LT
Private view: Tuesday 18th September, 6pm – 8pm
Exhibition dates: 8 September – 22 November 2018
Opening times: Mon – Fri 9am – 5pm. Sat 9am – 4pm. Sun closed.
Artists' talk: Saturday 10 November 2018, 1pm – 2.30pm
Occasionally The Crypt closes for private meetings, you can phone ahead to check times on 020 7935 7315 or 07809330592.
Download the catalogue here.
Essay by Fiona Long with introduction by Rhys Trussler.