Curated by Antonia Jackson: 13 January – 29 March 2018
This exhibition, hosted by Contemporary British Painting, brings together artists Helen Bermingham, Tom Down, Susie Hamilton, Antonia Jackson, Nicole Price and Ed Saye who explore the idea of time and memory through their painting practice ranging from the figurative to the semi abstract.
Download The Landscape of Time essay by Antonia Jackson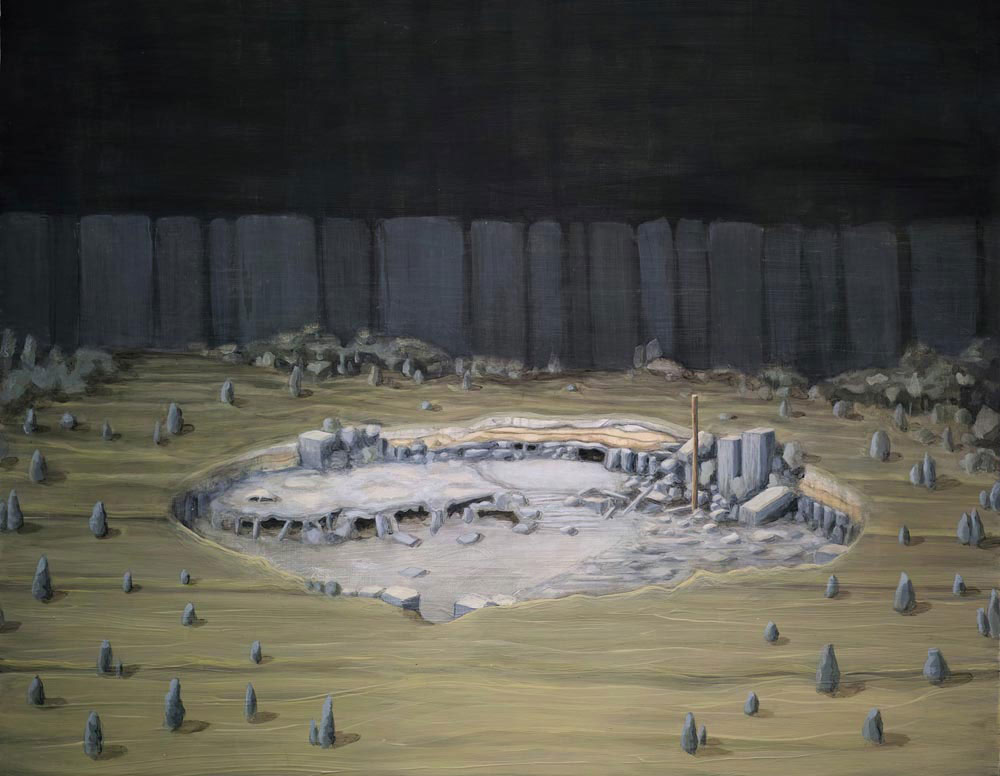 Private view: Tuesday 16/01/2018, 6-8pm
Panel discussion: Friday 23/02/2018, 3-5pm
The Crypt, St Marylebone Parish Church, 17 Marylebone Road, London NW1 5LT
Open Mon-Fri 9am-5pm, Sat 9am-4pm, Sun closed.

"Memory is always incomplete, always imperfect, always falling into ruins; but the ruins themselves, like no other traces, are treasures: our guide to situating ourselves in a landscape of time"
Rebecca Solnit
The Ruins of Memory*

While Rebecca Solnit relates to ruins as architectural, these can take many other forms: rediscovered family photographs, old film footage, disregarded objects or sketches executed in haste as to record a fleeting trace of time are some of them. Once taken out of their original context, these artefacts can take on new meanings at the hand of the artist and open up a space for the recovery of memory. Such is the starting point for the artists involved in this exhibition. Their appropriation process is however different and involves collage, drawing, preliminary quick paintings and creating stage like set displays. It is eventually the transformative and illusory qualities of the painting process that allows their final reinvention.

In a world where the immediate is ever so important, the painters featured here attempt to slow and recapture time. Through their varied use of colour, composition, choice of scale and brushwork, each of them recreates half remembered, half imagined spaces, imbued with a sense of melancholy and at times existential. They invite the viewer to pose and reflect.
(Text written by A. Jackson)
*Storming the Gates of Paradise : Landscapes for Politics. Rebecca Solnit, 2006
About the artists:

Helen Bermingham is originally from Ireland and lives and works in London. She completed a degree in Art History and Theatre at Trinity College Dublin and a postgraduate at The Royal Academy of Dramatic Art. She wasrecently shortlisted for the Anthology Award 2017 at Charlie Smith London. Most recent shows include Painting Worlds, Farnham Maltings, Surrey: Drawing Open, No Format Gallery, London; Anthology, Charlie Smith London and Telling Tales, Collyer BRistow Gallery, London. Her work is held in private collections in the UK, Europe and the USA.
https://helenbermingham.weebly.com

Tom Down is originally from Birmingham and lives and works in London. Down graduated in 2008 with a BA in Fine Art-Painting from Wimbledon College of Arts. He has recently exhibited at the 2017 London Art Fair and the 2016 Royal Academy Summer Exhibition. He was shortlisted for the 2016 Beep Wales painting prize and the 2015 National Open Art competition. Most recent shows include Painting Now, Studio One Gallery, London, Painting Worlds, Farnham Maltings, Farnham and Telling Tales, Collier and Bristow Gallery, London.
www.tomdown.co.uk
www.tomdown.co.uk
Susie Hamilton is a British artist who has exhibited extensively in the UK and abroad. She studied Fine Art at Byam Shaw School of Art and St Martin's School of Art and holds a PhD in English Litterature from London University (Birkbeck). Her most recent solo shows include In Atoms at Paul Stolper Gallery, London and Here Comes everybody, St Paul's Cathedral, London. She has recently participated in the Contemporary Masters from Britain exhibition touring in China at the Yantai Art Museum, The Tianjin Academy of Fine Arts, Jiangsu Arts and Crafts Museum, Nanjing and the Jiangsu Art Museum, Nanjing. Her work is held in public and private collections in the UK and abroad.
www.susiehamilton.co.uk
Antonia Jackson is originally from France (Alsace) and lives and works in London. She graduated in 2014 with a BA in Fine Art-Painting from Wimbledon College of Arts. She has exhibited at The Affordable Art Fair in Hampstead (May 2017) and at The Other Art Fair at the Truman Brewery, London (October 2016). Other recent exhibitions include The Art Maze, Bargehouse, Oxo Tower Wharf, London, Europa, Transition Gallery, London, and L'Invitation au Voyage, Platform 1 gallery, London, part of Wandsworth Fringe Festival 2016.
www.antoniajacksonart.com
Nicole Price is a British artist who lives and works in London. She completed a MFA in Fine Art at Wimbledon College of Arts in 2016. She was selected for the Royal Academy Summer Exhibition 2017, the ING Discerning Eye exhibition 2016, and The National Open Art Competition 2016 and 2017. Other recent shows include Painting Now, Studio One gallery, London, 16 artists-16 days, The Hive, Koppel Project, London, As it stands: Unrefined, Muted, Abandoned, Hundred Years Gallery, London and Second Floor Painting Open 2017 at No Format Gallery, London. Her work is held is public and private collections.
www.nicole-price.com
Ed Saye is a British artist who lives and works in Hampshire and London. He completed a MFA in Painting at the Slade School of Fine Art in 2009. Recent exhibitions include Virtuality Mortality, XAP at Ugly Duck, London, The Ruth Borchard Portrait Prize, Piano Nobile Gallery, London and the solo exhibition No Promised Land at The Foundry Gallery, London.
www.edsaye.com