28 March – 14 June 2018
A series of events in Leeds to promote discussion and interest in painting in the city. This is a collaborative venture between Contemporary British Painting, Paint Club, Leeds and the University of Leeds. Twenty-seven of the most interesting UK painters exhibiting together in Leeds for the first time. The exhibition demonstrates the vitality, ambition and possibilities of contemporary painting.
David Ainley, Richard Baker, Eirini Boukla, Day Bowman, Simon Carter, Howard Eaglestone, Catherine Ferguson, Richard Gee, Susan Gunn, Marguerite Horner, Barbara Howey, Martyn Hill, Linda Ingham, Matthew Krishanu, Kevin Laycock, Paula MacArthur, Jo McGonigal, Tom Palin, Mandy Payne, Narbi Price, Chris Smith, Adam Stone, Sarah Taylor, Andrea Thoma, Judith Tucker, April Virgoe, Sean Williams.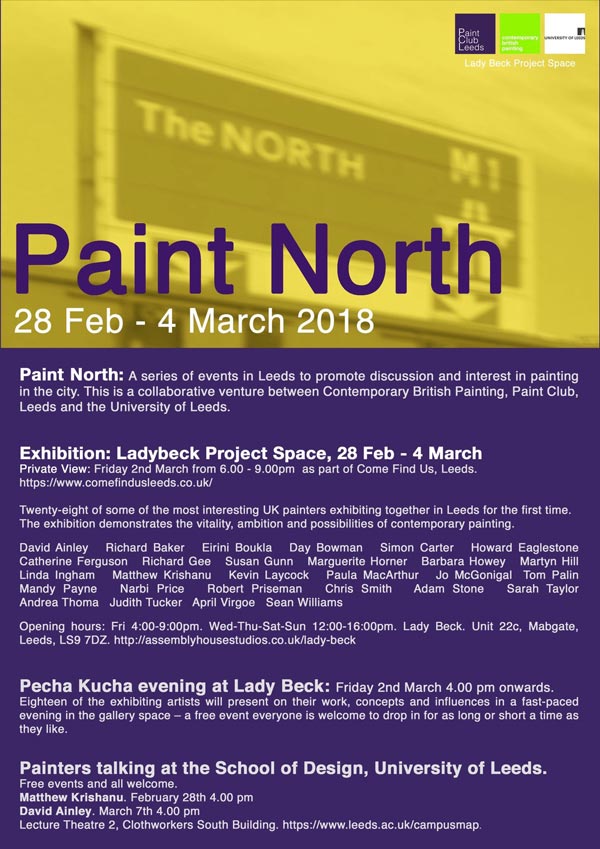 Private View: Friday 2nd March from 6.00 as part of Come Find Us, Leeds.
Opening hours Friday 4.00 – 9.00 pm Weds, Thurs, Sat, Sunday 12.00 – 4.00 pm
Lady Beck. Unit 22c, Mabgate, Leeds, LS9 7DZ
http://assemblyhousestudios.co.uk

Pecha Kucha evening at Lady Beck: Friday 2nd March 4.00 pm onwards.
Eighteen of the exhibiting artists will present on their work, concepts and influences in a fast-paced evening in the gallery space – a free event, everyone is welcome to drop in for as long or short a time as they like.

Painters talking at the School of Design, University of Leeds: Lecture Theatre 2, Clothworkers South Building
Free events and all welcome.
February 28th 4.00 Matthew Krishanu
March 7th 4.00 David Ainley
Matthew and David will also be working with students to engage them with issues in painting.