Contemporary British Painting members' exhibition.
24 November 2018 – 17 January 2019.
The Crypt, St Marylebone Church,17 Marylebone Road, London NW1 5LT
Curated by Paula MacArthur and Wendy Saunders.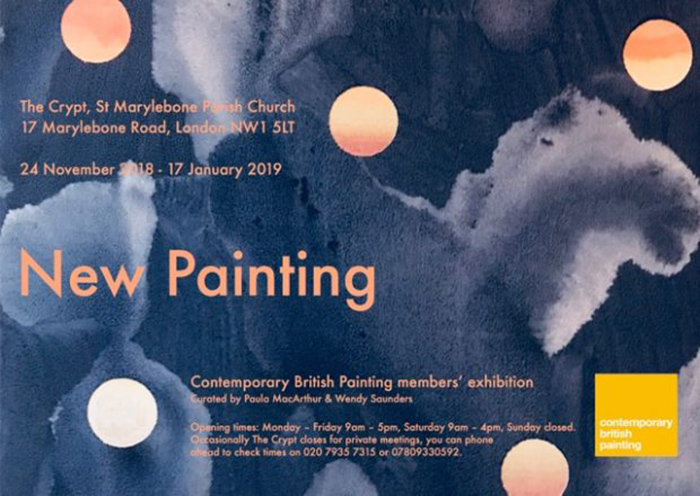 Private view: 8 January 2019, 6pm – 8pm
Exhibition dates: 24 November 2018 – 17 January 2019
Opening times: Monday – Friday 9am – 5pm. Saturday 9am – 4pm.
Sunday closed.
Artists:
David Ainley, Iain Andrews, Amanda Ansell, Karl Bielik, Day Bowman, Julian Brown, Simon Burton, Marco Cali, Ruth Calland, Simon Carter, Lucy Cox, Gordon Dalton, Pen Dalton, Natalie Dowse, Fiona Eastwood, Nathan Eastwood, Geraint Evans, Susie Hamilton, Alex Hanna, Marguerite Horner, Barbara Howey, Phil Illingworth, Linda Ingham, Matthew Krishanu, Bryan Lavelle, Cathy Lomax, Paula MacArthur, Enzo Marra, Nicholas Middleton, Cara Nahaul, Paul Newman, Kirsty O'Leary-Leeson, Gideon Pain, Mandy Payne, Ruth Philo, Barbara Pierson, Alison Pilkington, Narbi Price, Freya Purdue, James Quin, Wendy Saunders, Stephen Snoddy, David Sullivan, Ehryn Torrell, Judith Tucker, Sean Williams.
View and download a copy of the catalogue here.