A solo exhibition by Narbi Price, the winner of the 2017 Contemporary British Painting Prize.
26 – 30 March 2019: Herrick Gallery 93 Piccadilly, London W1J 7NQ
All I Start Will End brings together works by Narbi Price from the last five years. Works from the This Must Be the Place and The Ashington Paintings series are shown together here for the first time. Showing a deep engagement with painting as process, geography, and history, these works depict sites of various historical importance. The winner of the 2017 Contemporary British Painting Prize, this exhibition forms part of the prize and features a new essay by writer and critic Nicholas Usherwood entitled A Moral Life -The Work of Narbi Price.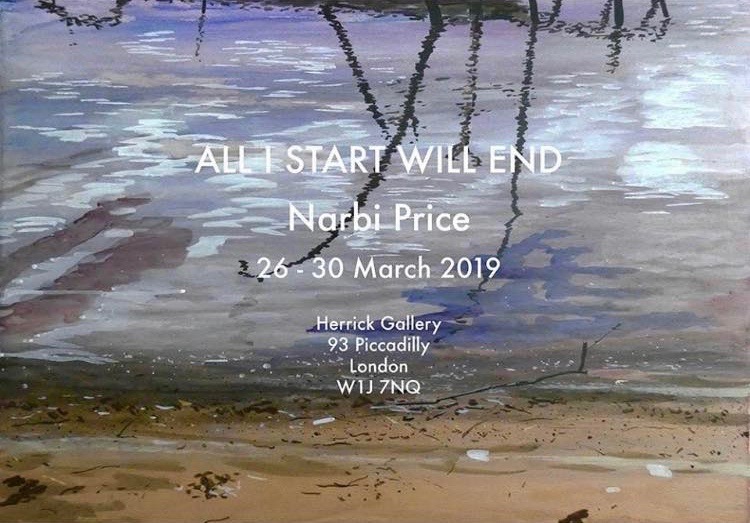 The work involves journeys to specific places that have witnessed a range of events – variously historical, famous, personal or forgotten. He researches the precise location of a chosen event, ranging from significant moments in music, film and TV, whimsical acts through to places of violence and death amongst others. Working from photographs taken at the site, he makes paintings in the studio focussing on the abstract, formal and painterly qualities of the resultant images.
This process removes the conscious choice of subject matter; he must work with whatever is present at the spot. Whilst clearly photographically derived, the paintings use the language of abstraction to simultaneously acknowledge and disrupt the representational image. The paint is transparent, opaque, glossy, matt, dilute and impasted, often within the same work. As viewers, we are not immediately made aware of the specific histories of the sites and are given space to wonder about the multiplicities of events that might have taken place, an effect heightened by the painting method. Our experience of the work shifts as we become aware of the provenance of the depicted sites.
Narbi Price is painter based in Newcastle and Gateshead, featured in Phaidon's Vitamin P3: New Perspectives in Painting, he a former John Moores Painting Prize prizewinner, and the 2018 Journal Culture Awards Visual Artist of the Year. This is his debut London solo presentation.
Herrick Gallery 93 Piccadilly, London W1J 7NQ
Private view: Tuesday 26 March 6pm – 8pm
Exhibition dates: 26 – 30 March 2019
Opening times: Tuesday – Friday 12noon – 6pm / Saturday 12noon – 4pm
Admission free.
View and download the essay accompanying this exhibition, 'A Moral Life: Place and Memory – The Work of Narbi Price' written by Nicholas Usherwood.