Curated by Marco Cali – The Crypt: 1 July – 28 September 2017
Artists: Amanda Ansell, Emily Ball, Simon Carter, Keith Murdoch.
Read a transcript from the panel discussion.
Download a pdf catalogue.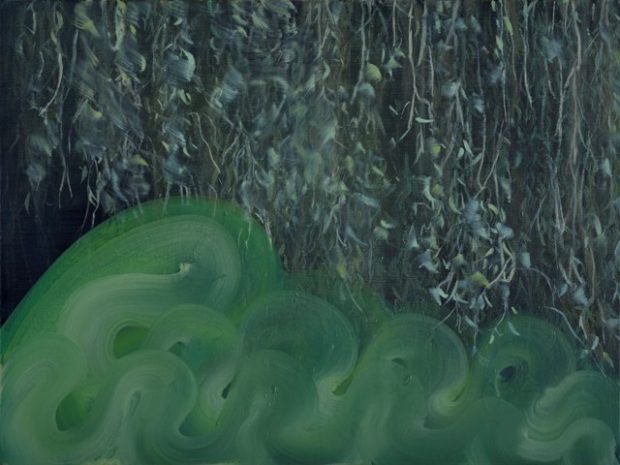 Over the last few years, Contemporary British Painting has staged a program of exhibitions in the crypt of St Marylebone Church. Most of us live in cities and only ever experience landscape in a fleeting and somewhat fragmentary way. It no longer makes up the everyday background to our daily lives. Yet, deep down we are still drawn back to it. Landscape, the colour, the light, the substance of the air even, is something that for us is deeply symbolic and full of spiritual weight. The current show brings together four artists who take landscape as their subject and who share an element of working outdoors in their otherwise studio-based practice. They all have continuous, persistent, repeated encounters with a very specific aspect of the outdoors, that result in complex emotive paintings. Normally only the final paintings are put on display, so that the thought process behind each one is not available to us. This exhibition allows us to look at their individual working methods. Along with finished paintings are drawings, sketches and notes that lead to the completed work. These are the warts-and-all of each painter's work. We can glimpse over their shoulder as they go on their walks or take a moment to contemplate the same view. Then, paradoxically, we can follow them back indoors away from that place, where they endeavour to create something of that experience. They only have photos perhaps and these bits of paper with their scribbles and smudges as visual references. Their practice is one of finding painterly equivalents to that moment at that time in that place. This method of working is perhaps as old as painting itself. What is surprising is how these very internal monologues that each has between themselves and the landscape in question, should result in works that have such universal resonance. This exhibition gives us the opportunity to see the alchemy that they practice, creating works that somehow convey this unique and personal experience.