At Sluice Biennial 2017
PIY PaintLounge is a salon exhibition, fundraiser and series of conversations with over 40 contemporary painters and arts professionals talking about painting as a part of Sluice Biennial 2017.
Press and VIP Viewing 12 -3pm Saturday 30th September
Public Preview 3 – 9pm
PaintLounge opening talk at 4pm Saturday 30th September with painter Sara Berman, artist Jude Cowan Montague, collector Valeria Napoleone and curator Niamh White. The opening preview and drinks continues till 9pm along with all exhibitions at Sluice Biennial.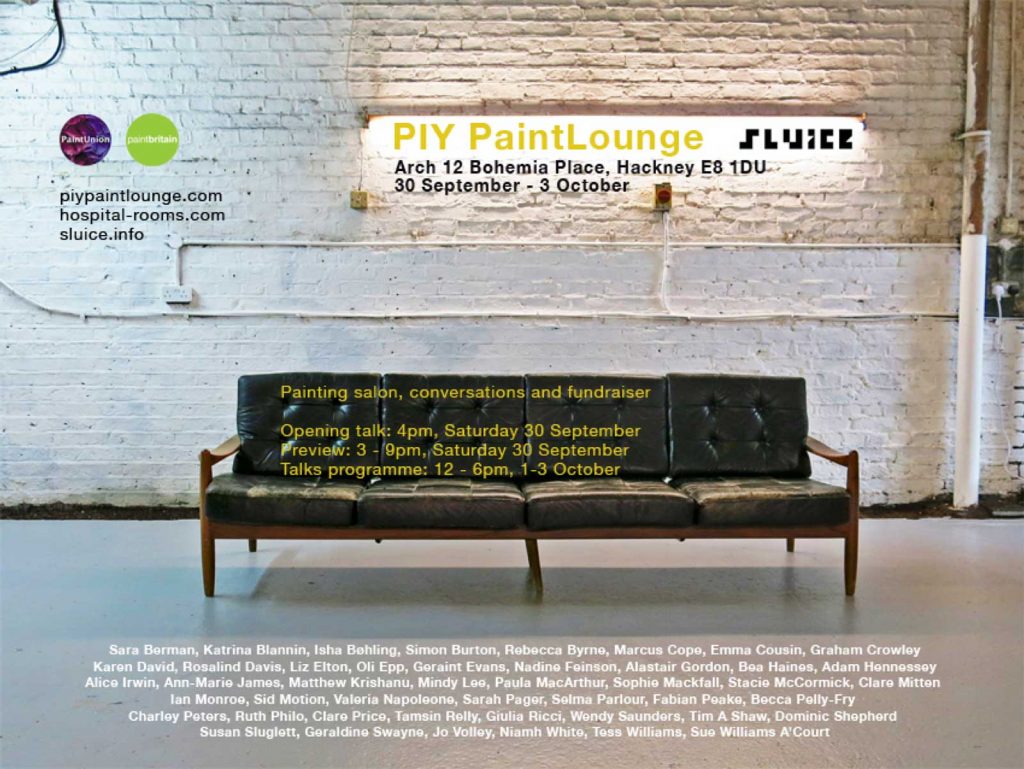 40 plus contemporary painters and curators take a turn on the sofa in a series of talks throughout the Biennial: Sunday 1, Monday 2 and Tuesday 3 October 12 -6pm. Artist speakers will also be exhibiting work in our PaintLounge.Please see below for full schedule of exhibitor/speakers.
In addition, PIY PaintLounge is taking this opportunity to support Hospital Rooms, an arts and mental health charity, and highlight as many painters as possible with a unique fundraising exhibition of small works. The 'Make Your Mark' exhibition will support Hospital Rooms with 20 x 20cm painted works sold for £30 each, with all profits to go to support the charity. The makers of submitted works will remain anonymous until after Sluice, when they will be posted to the purchaser and their identities revealed.
PIY PaintLounge is a collaborative project between paintbritain and PaintUnion which aims to bring as many painters as possible together to discuss and celebrate painting in all its many and various forms as part of the Sluice Biennial 2017 in Hackney. PaintUnion, founded by Rebecca Byrne and Liz Elton, organises exhibitions and talks about painting. Wendy Saunders and Paula MacArthur are organising this Contemporary British Painting project under the name of paintbritain.
Sluice Biennial 2017 — the fourth biennial international fair of artist-run galleries and projects. This year the fair will feature approximately 30 artist/curator-run and emerging galleries and projects in several spaces in the heart of Hackney Central, East London. Entry to the fair, talks, screenings and performances are all free to the public.
If you have any questions, please contact us at piypaintlounge@gmail.com
Exhibitors/speakers
Sara Berman, Katrina Blannin, Isha Bøhling, Simon Burton, Rebecca Byrne, Marcus Cope, Emma Cousin, Jude Cowan Montague, Graham Crowley, Karen David, Rosalind Davis, Liz Elton, Oli Epp, Geraint Evans, Nadine Feinson, Alastair Gordon, Bea Haines, Adam Hennessey, Alice Irwin, Ann-Marie James, Matthew Krishanu, Mindy Lee, Paula MacArthur, Sophie Mackfall, Stacie McCormick, Clare Mitten, Ian Monroe, Sid Motion, Valeria Napoleone, Sarah Pager, Selma Parlour, Fabian Peake, Becca Pelly-Fry, Charley Peters, Ruth Philo, Clare Price, Tamsin Relly, Giulia Ricci, Wendy Saunders, Tim A Shaw, Dominic Shepherd, Susan Sluglett, Geraldine Swayne, Jo Volley, Niamh White, Tess Williams, Sue Williams A'Court
Programme of talks
Saturday 30 September
4pm – Sara Berman, Jude Cowan Montague, Niamh White, Valeria Napoleone
Sunday 1 October
12.30pm – Emma Cousin, Oli Epp, Adam Hennessey, Alice Irwin
2pm – Sophie Mackfall, Sid Motion, Selma Parlour
3.30pm – Karen David, Ann-Marie James, Ian Monroe
5pm – Marcus Cope, Alastair Gordon, Paula MacArthur, Sarah Pager
Monday 2 October
12.30pm – Becca Pelly-Fry, Stacie McCormick, Jo Volley, Tess Williams
2pm – Graham Crowley, Rosalind Davis, Clare Mitten
3.30pm – Bea Haines, Clare Price, Tim Shaw, Geraldine Swayne
5pm – Isha Bøhling, Charley Peters, Giulia Ricci
Tuesday 3 October
12.30pm, Katrina Blannin, Nadine Feinson, Ruth Philo
2pm – Liz Elton, Tamsin Relly, Dominic Shepherd
3.30pm – Simon Burton, Geraint Evans, Matthew Krishanu, Wendy Saunders, Sue Williams A'Court
5pm – Rebecca Byrne, Mindy Lee, Fabian Peake, Susan Sluglett
Click here for press release