Painting and the metaphor of the journey.
The Crypt: 16 June – 6 September 2018
A Road Not Taken is a 'journey' of encounters that explores the idea that artists offer us abstractions of experience. By considering the physical act of painting in terms of a journey, the art object describes or embodies the inner territory through which the artists navigate. The art object functions as evidence for a 'place' visited, seen and experienced.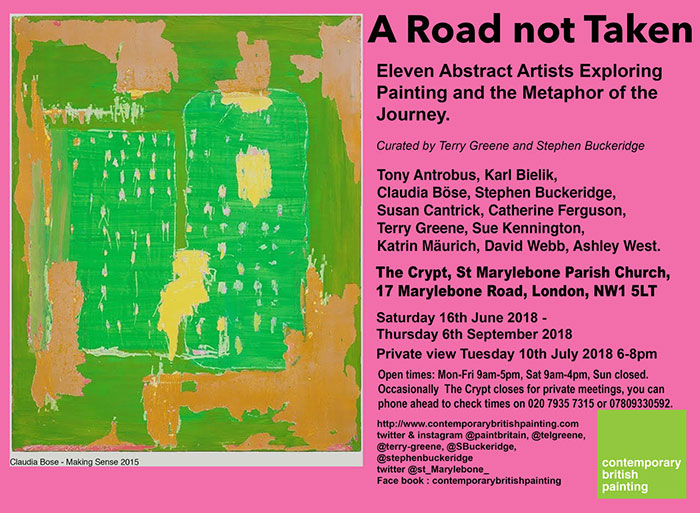 The paintings in this show, like postcards, are human and intimate. You know the artist have physically touched them. They are sending you something of themselves.
A Road not taken includes work by: Tony Antrobus, Karl Bielik, Claudia Böse, Stephen Buckeridge, Susan Cantrick, Catherine Ferguson, Terry Greene, Sue Kennington, Katrin Mäurich, David Webb and Ashley West.
Curated by Stephen Buckeridge & Terry Greene.
Private View: Tuesday 10th July 2018, 6pm – 8pm
Exhibition dates: 16 June – 6 September 2018
The Crypt, St Marylebone Church,17 Marylebone Road, London NW1 5LT
Opening times: Mon – Fri 9am – 5pm. Sat 9am – 4pm.
Read the essay by Terry Green.
Download the exhibition catalogue.