Curated by Lucy Cox and Freya Purdue
The Crypt: 5 April – Friday 30 June 2017
Julian Brown | Lucy Cox | Jeff Dellow | David Manley | Andy Parkinson | Freya Purdue
"Colour is a kind of bliss . . . like a closing eyelid . . . a tiny fainting spell." Roland Barthes
Read the essay by Andy Parkinson.
Download the catalogue.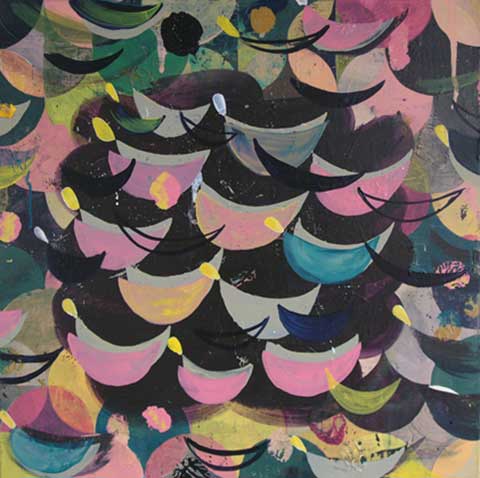 Colour: A Kind of Bliss brings together six British painters concerned with different approaches to the use of intense energy and luminous qualities of colour. Through varying densities of paint and chroma, saturation and de-saturation, their paintings realise direct emotive forms resulting in both subtly and vibrancy. Painting for these artists working in the field of abstraction/non-figuration is a synthesis of ideas, drawing and colour.
In the vast expanding digital world, we have become entranced by momentary glimpses of virtual light and colour, unable to arrest or capture fast moving, subliminal and evanescent experiences. This relationship has become a new condition for the human spirit, perhaps a kind of bliss in its own right, somewhat disconnected from nature. The screen distraction separates us from the power of colour in the natural world and our instinctive awareness and sensibilities of perception; encountering fleeting images of light is not the same as experiencing the contemplation of colour in the physical world. This polarity is conveyed in a number of ways.
Some artists express the meeting and departure between virtual and physical spaces, and the playful possibilities of optical illusion; others retreat into memories, music or philosophical and mystical thought, occasionally slipping back into physicality and the processes of seeing and understanding. All of these concerns embody colour as a kind of bliss, a never-ending kaleidoscope for both the painter and the viewer.
Text written by Lucy Cox and Freya Purdue
Biographies
Julian Brown lives in Brighton and works in London. Brown studied at Liverpool John Moores University (1993-96) and the Royal Academy Schools (1998-2001). He has exhibited nationally and internationally and is a member of Contemporary British Painting. Recent exhibitions include 'We Live Now', Candida Stevens Gallery, Chichester (2017) and 'A Sense of Wonder', York College Gallery (2016). Brown was long-listed for the John Moores Painting Prize (2016) and shortlisted for the Marmite Prize in Painting IV (2012).
Lucy Cox studied at Wimbledon College of Arts (2013-2015); she lives and studies in London. Exhibitions include 'Geometry: Wonky and Otherwise', Deda, Derby and 'Piercing the Veil', Simmons & Simmons, London (2015). Cox is showing in the forthcoming 'Contemporary Masters from Britain', Yantai Art Museum, Jiangsu Arts and Crafts Museum, Artall and Nanjing, Jiangsu Art Museum, Nanjing (2017). She is a member of Contemporary British Painting and has work in The Priseman Seabrook Collection.
Jeff Dellow lives and works in London and has been painting for over thirty years. Dellow studied at St Martins School of Art (1968-69), Maidstone College of Art and Slade School of Fine Art (class of 1974). National and international exhibitions include The John Moores Painting Prize (1976 and 1989; 1991 prize winner), The London Group Open (1988 and 2015), 'Window', Pluspace Projects, Redditch, 'Conference of The Birds', Iklectic, London (2015) and 'Colour and Otherness', Grace Teshima Gallery, Paris (2014). Dellow has a forthcoming solo show at The Cut, Halesworth (2017) and is a member of The London Group (since 2015).
David Manley lives and works in Kegworth, Leicestershire. Manley's solo and group exhibitions include 'All of My Senses at Once', Harrington Mill, Derbyshire (2016), '[about] Painting', Castlefield Gallery, Manchester (2014) and 'Deadly Delicious', Tarpey Gallery, Derby (2013). His curatorial projects include 'Happy Little Fat Man – the art of Kevin Coyne', (2014) and 'Geometry: Wonky and Otherwise', Derby (2014/15). Manley's work is held in The Priseman Seabrook Collection.
Andy Parkinson lives and works in Nottingham. Exhibitions include 'Abstractions', Line Gallery, Stroud (2017), 'Echo Spectrum', Trestle Gallery, Brooklyn, New York (2017), 'Imperfect Reverse', Camberwell Space, London (2016); 'Summer Mix', Turps Banana Gallery, London (2015) and 'Generator', Kaleidoscope Gallery, Sevenoaks, Kent (2015). His work is held in The Priseman Seabrook Collection.
Freya Purdue lives and works on the Isle of Wight. Purdue studied at St Martins School of Art (1978-81) and Chelsea School of Art (1981-82); subsequent awards include the Digswell Arts Fellowship and the Boise and Villers David Travelling Scholarships. Purdue has exhibited nationally and internationally; Kettle's Yard, Cambridge, Gimpel Fils, London, L.T.G. New Delhi and Galeria Stara Bwa, Lublin. She is a member of Contemporary British Painting and has work in The Priseman Seabrook Collection, and is showing in the forthcoming 'Contemporary Masters from Britain', Yantai Art Museum, Jiangsu Arts and Crafts Museum, Artall, Nanjing and Jiangsu Art Museum, Nanjing (2017).

For sales and enquires, please contact Lucy Cox, lucybcox@outlook.com and Freya Purdue, freyapurdue@googlemail.com
With thanks to: Contemporary British Painting, St Marylebone Parish Church & Natalie Dowse (flyer and catalogue design)
Tuesday 5 April – Friday 30 June 2017
Mon-Fri 9am – 5pm, Sat 9am – 4pm
Private View: Tuesday 11 April 6 – 8pm
Panel Discussion: Friday 9 June 3 – 5pm

The Crypt, St Marylebone Paris Church, 17 Marylebone Road London, NW1 5LT