Artist of the Month November 2022:
Casper White, selected and interviewed by Paul Newman for CBP.
Casper's work centres on the history and intimacy of portraiture, where fleeting and unexpected moments become a place for reflection. Recently Casper's work has focused more directly on the relationship between the subject and viewer, magnifying moments and highlighting expressions in different ways. He is currently prioritising how light articulates a subject and illuminates a surface; faces lit in a cameo of light glimmer on stainless steel and aluminium, or are veiled in painted silk. This can be seen in his current candlelight paintings; these paintings play upon similarities between images of people crying in classical works and images shared on social media (BBC – Inside Culture – The Art of Crying).
By Moon, oil on aluminium, 50cm x 50cm, 2019

By Moon, Arusha Gallery in Edinburgh 2019, oil on aluminium with hand painted silk with hand rolled edges
CBP: First impressions of your paintings and their subjects evoke the feeling of an exquisite emotion, often on the tipping point of pain. Can you describe something of the essence of what you are reaching for in your paintings?
CW: I've only recently dealt directly with emotional imagery. Being openly emotive came from seeing how open people were on social media apps, specifically TikTok. I found immediate references to paintings I had studied. Finding similarities and relationships between images is something I find interesting; seeing social media creators express and play with the emotions and expectations of the viewer reminded me of certain paintings; for example, a sitter/creator can be filled with sorrow in a painting/post and be obviously faking or playing with the emotions. I find extremes of emotion quite interesting, and painting, for me, is a tool to look at that from a different angle.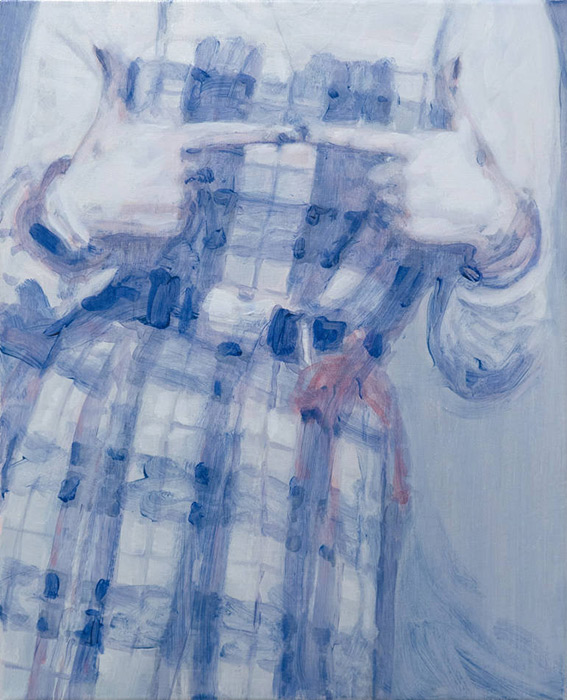 CBP: You have previously painted night clubbers; in the ecstasy of the moment and the fragility of the morning after. You also have recently been painting crying subjects crying from Tik Tok posts. Can you reveal more about the subject of your work, which depicts predominantly female characters?
CW: In the past, I mainly painted family and friends. My earliest paintings were of my brothers. My paintings are staged, even if they are mates or family, they are definitely playing characters, and I would never fain to attempt to "capture" them. When referencing an existing work of art or a motif from the past, I ask the sitter to assume specific roles or poses, sometimes recasting scenes from real life, found images, paintings, movies or imagined poses. During the lockdown, I tried to broaden my subject matter. I used to see friends and family and see art, but that all suddenly was all online, zoom, social-media, YouTube, and TikTok became more of a reference point. This time felt like a flattening of culture; most social media algorithms are problematic, and I felt pushed away from any natural diversity I have within my daily life. During the lockdown, I also started re-looking at all the photos I had taken of details of paintings in museums. Working without sitters, my work became a loose virtual spider graph of related imagery.
The nightclub/night-time and morning-after/hangover portraits came out of an idea of recording something vital to me that is not really seen in portrait painting and definitely not seen at The National Portrait Gallery. I wanted an excuse to make intimate moments dancing and or hungover. These often unrecorded moments can be very intense and pivotal times in life, and I wanted an excuse to convey some of those fleeting feelings/moments.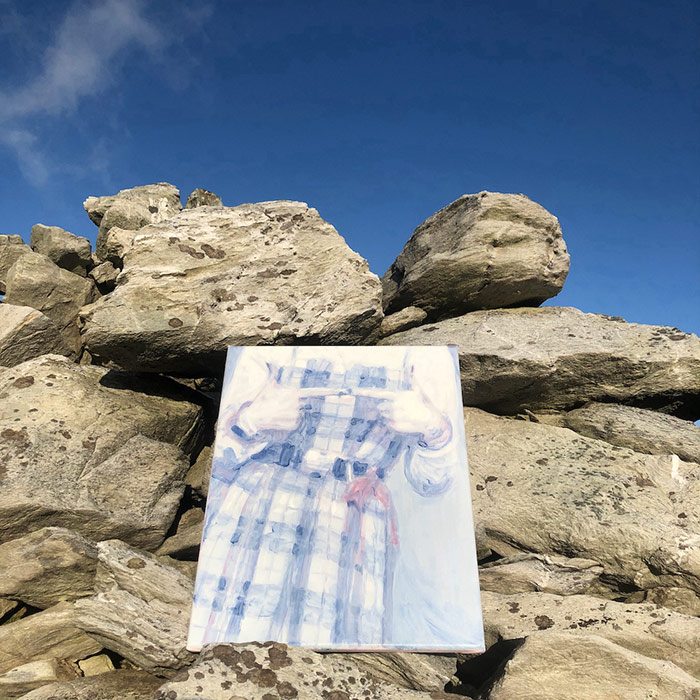 CBP: There is an inference of religious painting (and martyrdom?) in some of your paintings, with the evocation of halos and angel wings. Please talk about some of the art historical and religious art influences in your work.
CW: I come from a non-religious family. There are elements of my family that are actively anti-any belief system, and I understand where that sentiment comes from. I sometimes feel like I'm a member of an almost ridiculous cult, that of the art world. As a religious outsider who loves painting, especially painting of people, My vocabulary is built mainly from works with a religious element (funded or subject). Learning about portraiture is often a way into ideas, tropes and emotions that were super exciting to me. Outside the religiosity, I like seeing the artist's hand in the work; sometimes, you could tell when the artist hated a patron or enjoyed the company of one of the models. Also, many religious paintings' references have changed to a modern viewer; the light and the touch can now have more gravity than the symbolic image making.
Actor on instagram, oil on linen with brass candle holder and candle, 24 x 18cm, 2022

Actor on instagram, oil on linen with brass candle holder and candle, 24 x 18cm, 2022
CBP: The installation of your work with drapery, candles and other sculptural elements evokes an essence of a chapel-like experience. Please talk about the installation of your work.
CW: I see very little difference in my different practices; they are all portraits in some way or another or at least an attempt at portrayal. Of course, I am jealous of artists who can work just canvas and oil, but I get excited and distracted and end up questioning the act of oil painting.
The sentiment I am trying to understand comes through the same, even if the medium is a painted silk scarf, a stained piece of porcelain, a drape, a painting on metal, a candle-lit work or a drawing on found paper. I don't really know what the core subject is, but it has to do with seeing people in different lights or how someone is seen, being it through or in something. When I think of how people view me or how I view them, I imagine that they see me through a fog of ideas, positive and negative, opaque and sometimes transparent. Some of my best memories are of people in different lights. Nightclubs, bars, Christmas lights, candle lights in dim early mornings or the over-saturated lights of the office or gallery.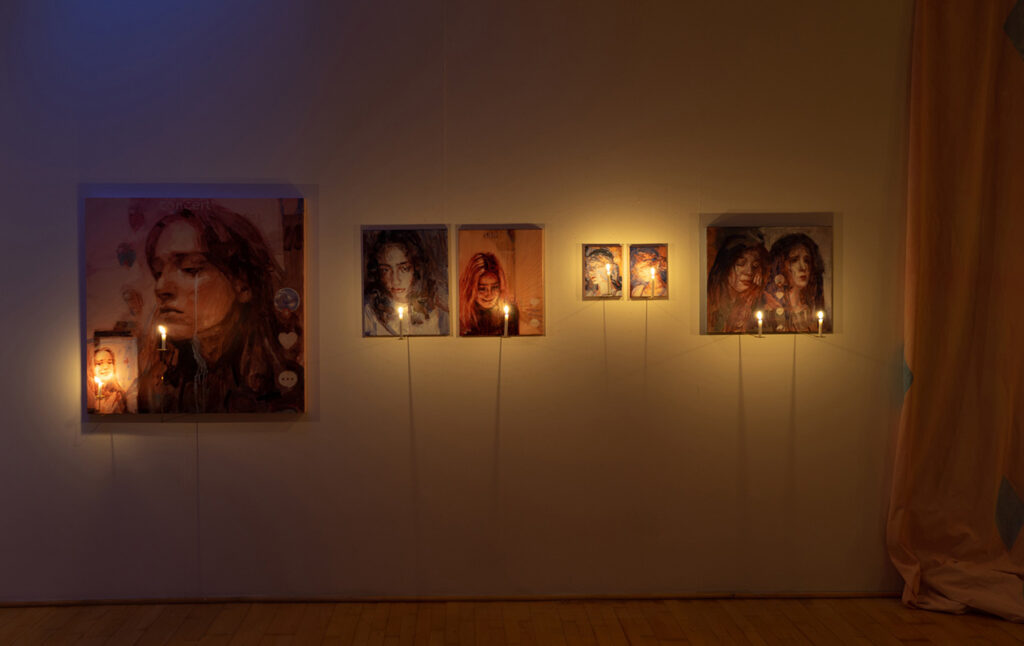 CBP: The inclusion of candles on armatures in front of the paintings is particularly compelling. It is significant in terms of lighting the work and evoking a centuries-old experience of viewing painting. There is also something resonant with the melting candle and the depiction of crying subjects. Can you talk about the candle as an installation motif and the notion of time in the work?
CW: When viewing other people's artworks, I always ask myself, "how should I see this?" "what world is this for?" Often, that is not the stark light of a contemporary gallery. Some of my work is best outside this environment. Layering is essential, as I have highlighted. Seeing work with a candle asks the viewer to place themself in front of the work and in time. The light from their phones lights the crying Tik Tokers, a light echoed by the candle. Their tears also drip in paint. A paint drip can also be seen as a loss of control by the painter. The drip can be destructive. The candle's colour is also destructive, limiting what can be viewed. This light also references sacred places, which is the right way to view some of these subjects, even though people see social media as unimportant.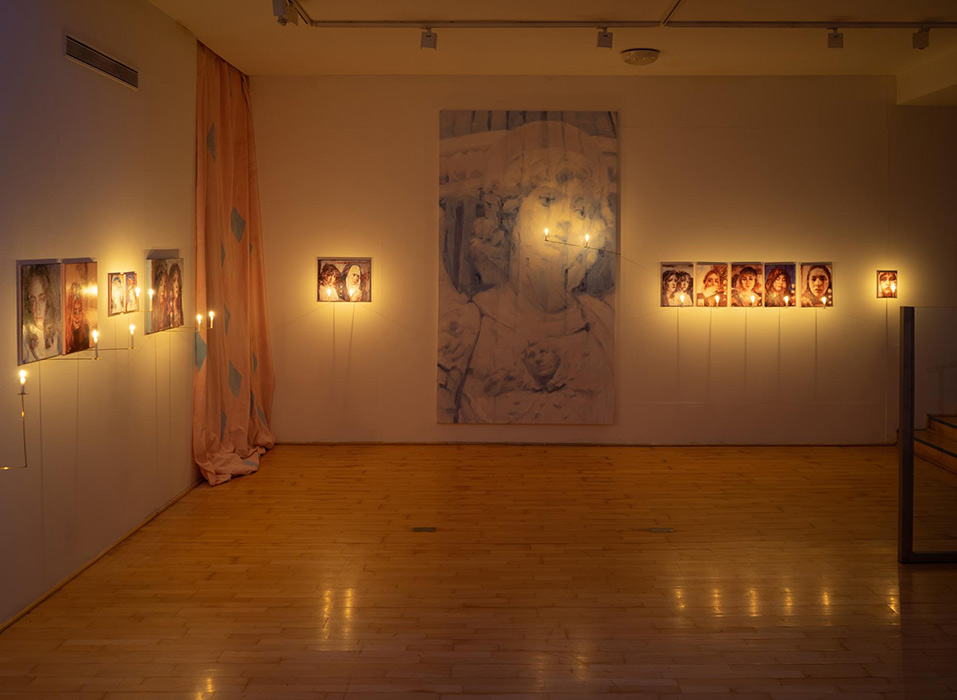 CBP: Light is a critical narrative element in work, from the depiction of it and building up the painting in translucent layers to the almost faded bleached-out colour as a signature style. Please talk about this aspect of your painting process.
CW: A lightness of touch interests me; sometimes, all I need to love an artwork is to be able to follow an artist's hand in their making. Deep colours or contrast are not always needed to feel the marks, so a low level of colour or minimal palette suits me. Sometimes, I don't want to be loud or intense. I want to tread lightly. But I was also thinking of times when the light is low and what is needed to be articulated. So, when high contrast or darker tones are used, it's usually because it helps touch be seen or articulated, especially with metal or candle-related works. I want people to look at the surface and then through it; the drapes aid this, and the candlelight again asks you to interrogate the surface. So, I use these things as tools to force me to look and feel.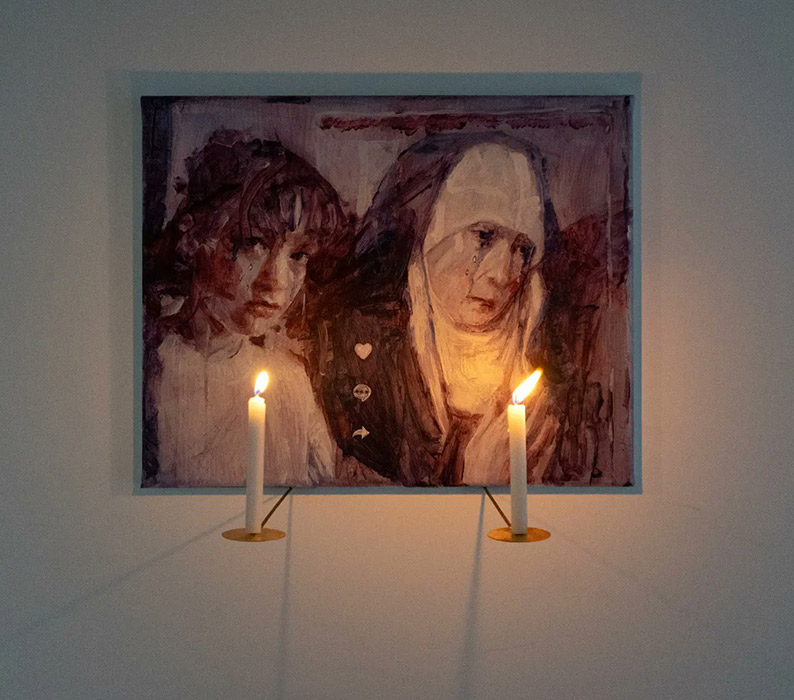 CBP: Where does the repeated harlequin motif come from in your work?
CW: The Meissen sculptures I draw from are in a collection in New York, they sat behind glary glass, and the glazed patterns painted on the figures reflected but also held the form of the figure. Painting them allowed me to play with the harlequin's history, but it also gave me a pattern to utilise; I used diamonds repeatedly on transparent silks and in my paintings. They were also tools for measuring, like a funny version of the old griding-up system that everyone's used and Sickert left in a few works. I also like the idea of them as confetti, but that could be a reach.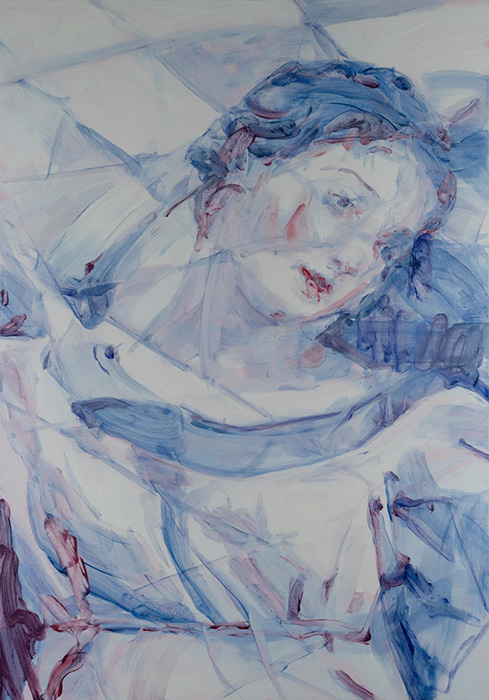 CBP: What is your current studio routine like, and what projects are you working towards?
CW: I have a studio in Cardiff Bay with Butetown Artists studios (https://www.bayart.org.uk/butetown-artists/). It's very reasonable cost-wise but the smallest studio in the building. I have an urge to make some larger paintings but have recently been drawn to making smaller works. I am working on a series of paintings on zinc, copper and silver for a show with Arusha Gallery at their new space In Bruton (https://www.arushagallery.com/). I have also been making some works in series, and these come together as rudimentary animations that I am putting on social media. I hope to show these at PAPER Gallery @ Manchester contemporary (https://paper-gallery.co.uk/). In the future, I hope to work with friends and peers in a more DIY nature, curating more and doing projects as LLE (https://llegallery.com/). Recently I have been excited by the potential of Zines and small publications.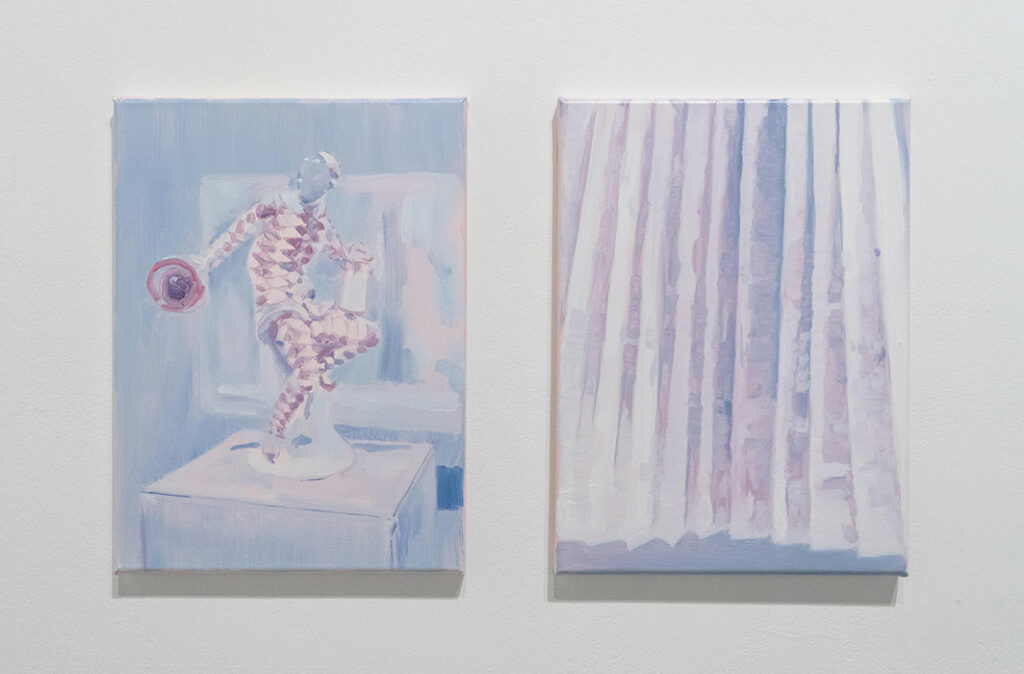 Casper White is an artist and curator based in Cardiff, Wales. Casper won the BP Travel Award 2017, for which he created paintings about music fans in clubs and concert venues in Berlin and Mallorca. He was a selector for the Contemporary British Painting Prize in 2022.
Recent exhibitions include: 2022; Call Me A Hourse Bark Berlin Gallery Köthener, Berlin, Germany, Paper After All RCA, Conwy, PAPER, Manchester, Saul Hay Gallery, Manchester, Vitalistic Fantasies, Elysium Gallery, Swansea. 2021; Darkness at Noon A.P.T. Gallery, London, Pleasure Scene, Trafalgar Avenue, London, Cruel Intentions, 46 Great Titchfield street, London. 2020; Come Fail at Love, solo show, Mission Gallery, Swansea.
BBC – Inside Culture The Art of Crying – casper (casperwhite.com)